Southeast Texas grill recipes? Honey Sweet Pork Ribs
When it's time to fire up the smoker, enjoy this great Southeast Texas grill recipe for "honey sweet" pork ribs. Armed with these juicy tips and a great recipe, you'll be ready to grill with the best!
The Rib Basics
Need a rundown on ribs?
* Back ribs originate from the blade and center section of the pork loin, which is known for the "finger meat" between the bones. Back ribs also are referred to as "baby" back ribs because they are smaller than spareribs.
* Spareribs, usually larger and heavier than back ribs, are known for their delicious, meaty pork flavor.
* Dry rubs are a mixture of herbs and spices applied to ribs just before barbecuing to create an intensely flavorful, smoky crust.
* Ribs are often basted with sauces during the barbecuing process to enhance flavor and to create a sweet and savory glaze. For best results, brush ribs generously during the last 30 minutes of cooking.
* Always use tongs, not a fork, to turn ribs as they cook – piercing the meat causes juices to escape.
* When grilling ribs, adding aromatic wood chips like hickory, apple or oak to the preheated coals infuses the meat with the distinctive smoky flavor prized in authentic barbecue.
Sweet, Spicy, and Smoky Spareribs
Serves 6
Prep Time: 10 minutes
Cook Time: 2 hours
5 pounds spareribs, cut into 4-rib slabs
1 tablespoon smoked sweet paprika
1 tablespoon kosher salt
2 teaspoons dried oregano
2 teaspoons cumin, ground
1 teaspoon ground chipotle chiles, or chili powder
1 teaspoon garlic powder
1 teaspoon onion powder
1/2 cup honey, heated until liquid (Buy Local, Buy Dietz Honey)!
Mix paprika, salt, oregano, cumin, chipotle or chili powder, garlic powder and onion powder together in small bowl. Sprinkle generously over both sides of ribs. Let stand at room temperature while preparing grill.
Prepare outdoor grill for indirect medium-hot grilling. For a gas grill, remove cooking grates. Preheat grill on High. Turn 1 burner off. Place disposable aluminum foil pan over off burner and add 2 cups water to pan. Replace grates. Adjust heat to 350°F. For a charcoal grill, place disposable aluminum foil pan on 1 side of charcoal grate. Build fire on opposite side, and let burn until coals are coated with white ash. Spread coals in grill opposite pan and let burn 15 to 20 minutes. Add 2 cups water to pan. Position cooking grate in grill.
Lightly oil cooking grate. Place ribs over foil pan and cover grill. Cook, adding water to pan as needed, until ribs are browned, fork-tender, and meat pulls away from end of bone, about 2 hours. (For charcoal grill, add 10 briquettes to fire every 45 minutes to maintain heat.) During last 20 minutes, occasionally brush both sides of ribs with warm honey.
Let stand 5 minutes, cut into ribs, and serve hot.
Recipe Source: National Pork Board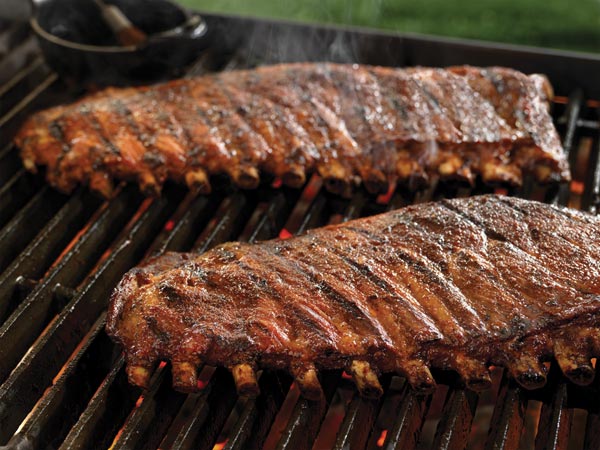 Don't feel like grilling yourself?
Enjoy great Beaumont barbecued ribs at Boomtown Barbecue on Calder or great Port Neches barbecued ribs at Billy Joe's Barbecue.