Bando's Beaumont Wedding Rehearsal Dinners
Are you planning a wedding rehearsal dinner in Beaumont Tx?
Your Beaumont wedding rehearsal dinner sets the tone for your wedding.
Start off on the right food with catering from Beaumont wedding caterer Bando's – at their restaurant on 11th street or at your home or wedding venue.
Bando's has a reputation for making Beaumont brides – and their guests – very happy.
It starts with the first consultation.
Beaumont bridess are happy to learn that Bando's can help them with a lot more than their Beaumont rehearsal dinner menu.

Bando's helps their Southeast Texas brides with:
Themed Southeast Texas weddings. Bando's keeps a full inventory of decorations for themed weddings and parties.
Beaumont wedding linens – Bando's keeps a number of different colors ready for their SETX brides.
Variety – Bando's can handle everything from elegant black tie table service to a casual buffet to fun Southeast Texas wedding stations with themes like "Bourbon Street Bash", "A Taste of Old Italy", "The Napa Valley Train", and "South of the Border".
Wild Cards – don't hesitate to tell Bando's what's on your "must have" list for your wedding. Purple cotton candy? Ice cream sundaes? Lobster rolls? Bando's Beaumont wedding catering can handle it – and bring your perfect Beaumont rehearsal dinner to life.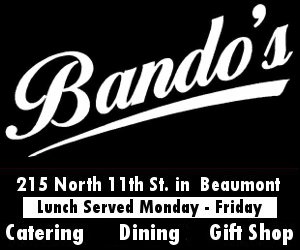 On a budget? Bando's loves Beaumont brides. Just let them know what kind of budget you're working with and they'll help you create something magical.
Would you like to know more?
Look for more articles on Bando's and our other Southeast Texas wedding vendors on SETX Weddings – just click here.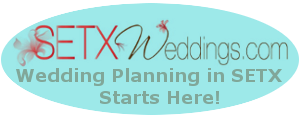 With Bando's, you can be assured of a great wedding rehearsal dinner in Beaumont Tx.