Beau Reve – Port Arthur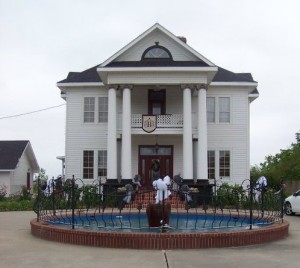 Venue: Beau Reve
Address: 4400 Atlantic Road, Port Arthur, TX 77702
Hours/ Days Open:
Lunch: Monday – Friday: 11a – 2p
Dinner: Friday: 5p – 10p for walk in Dining only.
All other evenings are RSVP for Dinner for groups of 16 or more.
Phone: 409-962-2422
Visit Beau Reve Website
Visit Beau Reve Facebook Page
Description: Dining room set next to an Elegant  historic Southern mansion on the water just waiting for you to come have lunch or dinner.  One visit here and you will find that the Beau Reve's atmosphere perfectly suits it's French name , which means  "Beautiful Dream". Owner Becky Bellard caters elegant lunches and special events from weddings to hosting organization meetings at the Beau Reve.

NEW MENU'S!
Get Beau Reve Lunch Menu Here
Get Beau Reve Regular Dining Menu Here
New Beau Reve Enhanced Menu 
***Congratulations to Beau Reve  !! Great review from Texas Monthly …. "Turning into the long drive and seeing the stately old mansion sets certain expectations. And Becky Bellard and her staff deliver, with unhurried service and food that makes the travel time worth it. Expect dishes like creamy chicken Florentine, rich shrimp étouffée, and crunchy fried fish. We finished with a sweet confection of pound cake and vanilla mousse, then contemplated a nap on the veranda" January 2013 Texas Monthly