Beaumont Wine Tasting Thursday at WineStyles on Dowlen – 6:30PM
Whew! It's been a long week already.
Relax with a wonderful Beaumont wine tasting event.
WineStyles on Dowlen will feature Rosenblum Cellars "Zin" flights".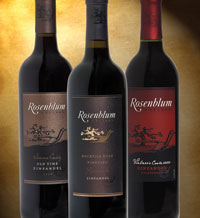 Rosenblum Cellars is renowned for their Zinfandel, crafting over 20 types each year.
The wine world has noticed. The California vineyard has created some of the most highly rated, most award winning Zinfandels including:
Single Vineyard Zin
High Altitude Zin
BIG Attitude Zin
Old Vine Zin
This fun, much needed, Beaumont wine tasting event will pair wines with Artisan cheeses.
To reserve:
Call WineStyles Beaumont (409) 347-1340
EM: KDaniel@winestyles.net