Best Hostess in the Biz 2012

Meghan Osborne
Cheddar's in Beaumont
Best Hostess in the Biz 2012!

What does it take to make a great restaurant hostess? According to one popular Southeast Texan, the key is "always having a smile on your face and making sure your customers have a great dining experience."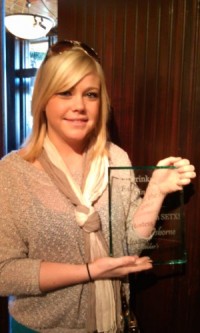 Who is this Southeast Texan and why does her opinion bear weight? Her name is Meghan Osborne and, as an employee of Cheddars restaurant, she has recently been awarded EatDrink's 2012 hostess of the year.
Meghan attributes much of her success to working in an atmosphere where attitudes are positive, co-workers enjoy what they do and the people she meets on a day-to-day basis are wonderful. She says "My fellow co-workers make coming to work enjoyable. Everyone works as a team which always makes for a great day!" She also points to organizational skills as a key factor, noting that it makes things "go a lot smoother while you're at work."
In her free time, this go-to gal prefers spending time outdoors, as evidenced by her statement "I don't like to waste my days inside." When not enjoying nature, she likes doing "anything creative."
Congratulations, Meghan, from all of us here at EatDrinkSETX, on a job well done. Thank you for your hospitality in serving Southeast Texas so well.
Best Hostess in the Biz 2012!