Best Manager in SETX 2012

Clyde Davis IV

Texas Roadhouse
Best Manager in the Biz 2012
Clyde Davis IV, Service Manager for Texas Roadhouse, has been named EatDrink's Best Venue Manager for 2012. Clyde tells the story of his employment with Roadhouse as follows:
"I was hired as a dishwasher in June of 2005 on the spot. They needed a dishwasher that night and during my interview I told the kitchen manager I wanted to work ASAP. He asked if I had a black belt, and I said 'no sir.' He gave me a $10 bill and told me to go buy one from Wal Mart and I could start tonight.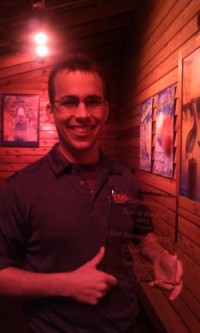 My next shift was the following day at 3 o'clock and I was pumped! I got a job on the spot and I was excited to start. Well, my truck broke down by Crawdad's in Port Acres. I didn't want to be late, so I ended up running to work and was only 2 minutes late. Till this day I am still known as the guy who ran to work on his 2nd day because he didn't want to be fired.
After working for Texas Roadhouse for a month or 2 I knew I wanted to be a Front of House Manager! They got to walk around and check on guests, make sure people were happy and really take good care of people. I told my boss that I didn't want to bartend or wait tables, that all I wanted to do was be a Manager. I eventually had to wait tables to 'learn the front,' but in 2007 they made me a Manager and I have never looked back since."
When asked what makes for a great Venue Manager, Clyde says that "care and concern" are critical for effective leadership. He also names "passion, partnership and integrity" as integral keys to success. Clyde states:
"I hate the term 'managing people because it sounds like I am making someone do something that the 'must do' or they'll 'get in trouble.' I like to say that I LEAD people because I set the example and tone for my shift. I truly believe that attitude reflects leadership and that's what makes a great leader. Remember that good is the enemy of great so work hard every day to make you good turn into great.
Texas Roadhouse is amazing. I tell everyone that we are a people company that sells steaks. If you take care of your people from the beginning and truly care about what you do, the hard stuff isn't really all that hard. We have a culture unlike any other. From the neon lights and peanuts to the Hand Cut Steaks and the country music, this place is legendary! I tell people I have the best job in the world. I get to make sure people are full and happy. I feel like I haven't had to 'work' in 5 years!
When I'm in the community with my Texas Roadhouse Polo on and someone says 'oh, hey, you work for Texas Roadhouse!' I always smile from ear to ear. I get stopped all the time and never tire of it because I love what I do."
Clyde takes great pride in the people he works with and the family environment that is fostered at Texas Roadhouse and believes that without his staff he could not have won the award of Best Venue Manager. He believes that open communication between management and staff are what makes it work. A family man himself, he says "I couldn't have done any of the work at the Roadhouse without the support of my wife Bethany who I met at Texas Roadhouse in 2006 when we waited tables together. She is my everything."
Congratulations to Clyde Davis IV, Best Manager in the Biz 2012!