Galveston 2014 Sacred Places Tour February 8th
This weekend, don't miss Galveston's Sacred Places Tour.
This special one day event (January 8th) gives Southest Texans the tour to step into Galveston's rich history.
In learning a little about Galveston churches, you learn a lot about Galveston:
Galveston's heavy German population built a number of the island's churches (Lutheran and Catholic). Today we tend to think of Texas German heritage as being based in Central Texas, but that wasn't always true.
Stand where slaves onces stood and worshipped – and where Texas' former slaves went on to worship as free men and women.
Learn of two groups of Jewish immigrants coming together to build a wonderful center for worship.
St. Joseph's Church (Tour Headquarters),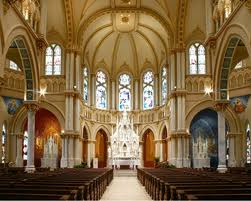 2202 Avenue K
By the middle of the 19th century, Galveston Island was home to somewhere between two and three thousand German immigrants, almost half the total population. Bishop John Odin, the first Catholic bishop of Texas, recommended that a church be built for the German-speaking Catholics of the growing city. Built by German immigrants in 1859-60 the church was dedicated in April 1860, to St. Joseph, the patron saint of laborers.
Funds raised during the 2014 Galveston Sacred Places Tour are being used to revitalizes St. Joseph's Church.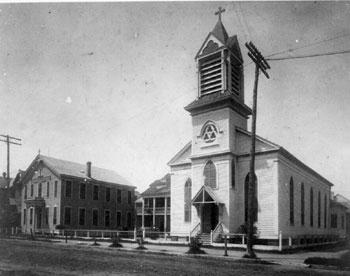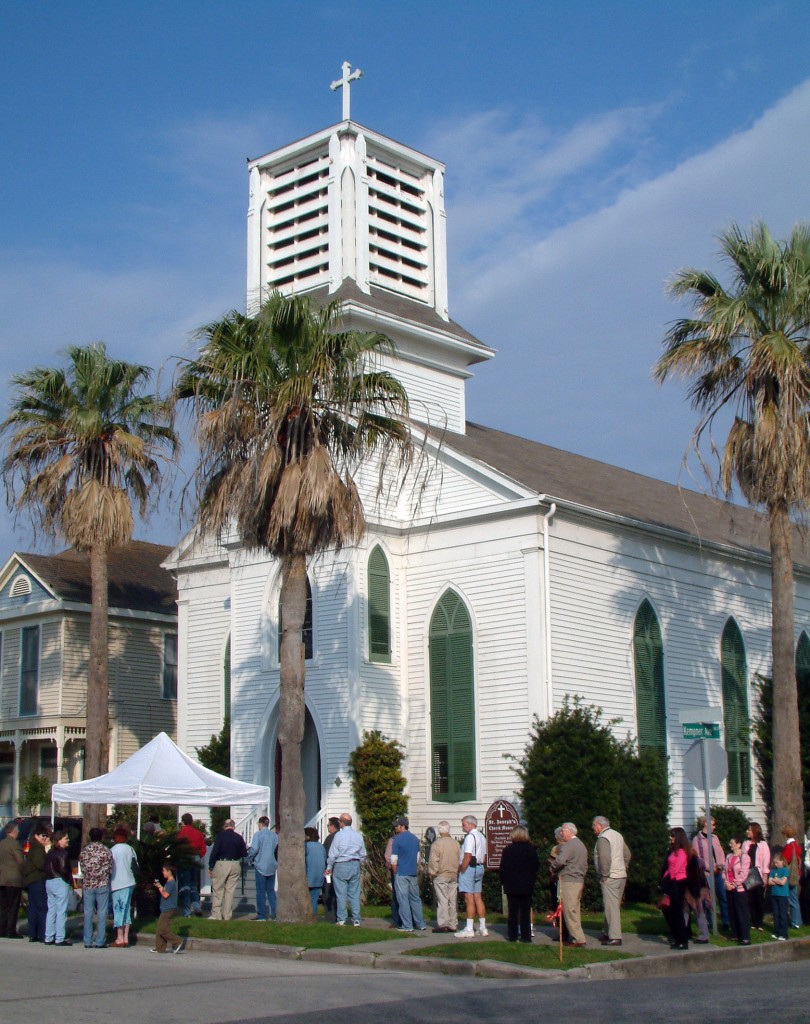 First Lutheran Church
2415 Winnie
By 1850, German immigrants made up almost half of the population of Galveston and the large number of Lutherans in this group necessitated the formation of a Lutheran church. In 1854, First Lutheran made arrangements to hold its Sunday services in Lyceum Hall, located on the corner of Winnie and Bath Avenue (25th Street). A year later, the church bought the Lyceum building and moved it to the present church property. This building has remained a part of the church and is the oldest of the buildings belonging to First Lutheran.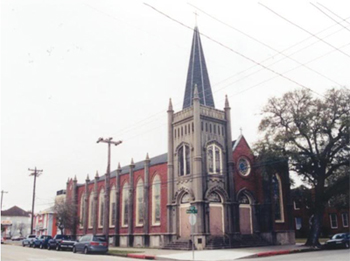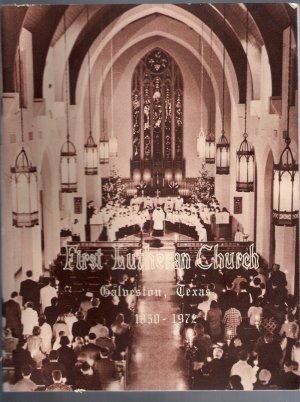 Grace Episcopal Church 
1115 36th Street
Established as a Sunday School Mission of Trinity Episcopal Church in 1874, Grace became a parish in its own right two years later. Parishioners originally worshipped in a small frame building. The present Gothic limestone structure, designed by Nicholas J. Clayton, was erected in 1895.
Reedy Chapel African Methodist Episcopal Church
2013 Broadway
In 1848, trustees of Galveston's Methodist Episcopal Church South purchased property at Broadway and 20th Street for the purpose of establishing a church for their slaves. A church building and parsonage were erected and given to the slaves as the "Negro Methodist Episcopal Church South". In 1866, the Negro Methodist Episcopal Church South was re-organized under the name Reedy Chapel.
Ursuline Chapel at Holy Family Catholic School
2601 Ursuline Avenue (Avenue N)
The Ursuline presence in Galveston dates to 1847 when seven of the religious order's sisters arrived on the island. The first building served until 1854 when it burned and was replaced by an imposing two-story brick structure. In 1961, tornadoes severely damaged the building and it was razed the following year. The new building, designed in 1964, is now the home of Holy Family Catholic School and within its walls lies the Ursuline Chapel.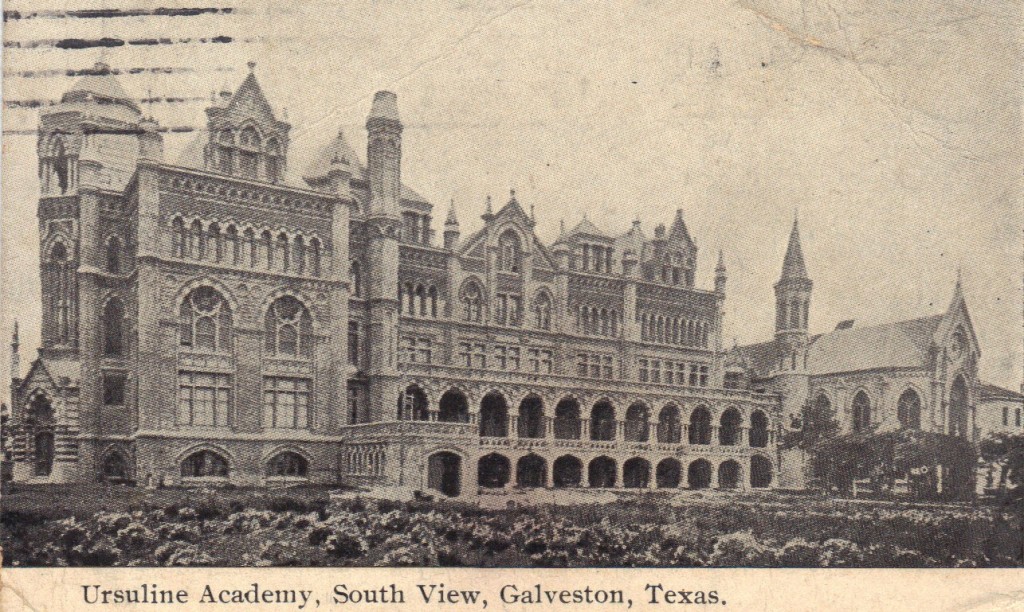 Avenue L Missionary Baptist Church
2612 Avenue L
In 1840 Galveston's newly formed First Baptist Church organized a church for its members' slaves; called the Colored Baptist Church. In the 1850s, the church became known as the African Baptist Church and was housed in a building located at 26th Street and Avenue L. In 1891 a new building arose on Avenue L, only to be badly damaged by the 1900 Storm. In 1916, the cornerstone was laid for the present building which was dedicated on January 7, 1917.
Broadway Cemetery (Featuring Headstone Cleaning Workshops)
Avenue K and 40th Street
In addition to the participating sacred places, two headstone cleaning demonstrations will be held at Galveston's Broadway Cemetery. The sessions, led by Matthew Farragher, will train individuals on how to properly clean cemetery headstones and statues. Attendance is free with Sacred Places tour ticket and workshops will be held at 11 a.m. and 2 p.m.
Central Christian Church
2702 Ave O½
Galveston's Central Christian Church was founded in 1877. In 1893 the church was reorganized and a small brick church was erected at 20th Street and Avenue K and used for worship until it was sold in 1922. In 1926 a brick church building was built at the corner of 27th Street and Avenue O1/2. The Fellowship Hall, a former army barracks purchased after World War II is still in use.
Congregation Beth Jacob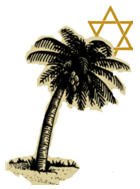 2401 Avenue K
(Open for tours 1:30 p.m. to 4 p.m. only)
Participating on our Sacred Places Tour for the first time, Beth Jacob's roots date back to 1888 when a group of orthodox Russian Jews came together to form the Hebrew Orthodox Benevolent Association. Around the same time a group of Orthodox Jews from the Austro-Hungarian Empire immigrated to Galveston and began looking for a synagogue to join. In an effort to unite the growing Orthodox community, on February 15, 1931, the two Orthodox congregations voted to merge and form Congregation Beth Jacob. $40,000 was raised to build a new two-story brick synagogue at Avenue K and 24th Street, on the site of the                                                                                               old Hebrew Orthodox Benevolent Association.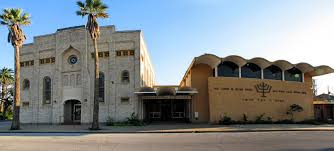 Sacred Places Tour Date: Saturday, February 8
Time:  10 a.m. until 4 p.m.
Tickets pricing:  $15 per person and available by clicking  here
Tickets may also be purchased by phone 409-750-9108 ext. 1305.
Note: Galveston Historical Foundation members can purchase tickets for $13. Pre-reserved group rates are available.
Event Day Tickets: Can be purchased on Saturday February 8th at St. Joseph's Church, 2202 Avenue K.
Click here for more information on the Galveston Sacred Places Tour 2014