GUINNESS Foreign Extra Stout Arrives in the U.S.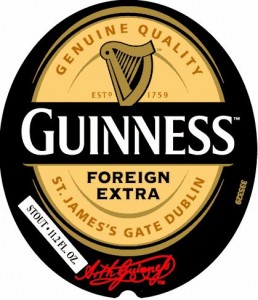 GUINNESS® Irish Stout announced today the U.S. launch of GUINNESS® Foreign Extra Stout, the fullest in flavor of the GUINNESS brand variants. Deep brown in appearance, GUINNESS Foreign Extra Stout is carbonated unlike the nitrogenated GUINNESS Draught with which most Americans are familiar. The specialty beer is 7.5% ABV and possesses strong, roasted aromas followed by a unique bittersweet taste that beer aficionados can enjoy responsibly.
The history of GUINNESS Foreign Extra Stout involves a long brewing tradition of crafting great GUINNESS beer as well as the rich history of Guinness global exports. GUINNESS Foreign Extra Stout dates back to 1801, when it was first brewed at St. James's Gate brewery in Dublin. Originally known as West India Porter, it was developed to enable GUINNESS to be shipped around the world. In order to accomplish this, it was brewed with extra hops, giving the beer a more intense flavor. The extra hops also acts as a natural preservative for beer, allowing it to survive long journeys overseas. GUINNESS Foreign Extra Stout made its debut in the U.S. in 1817. Export to the U.S. was discontinued during prohibition and the variant is now making its return to the market.
GUINNESS Foreign Extra Stout is brewed at a higher hop rate than GUINNESS Draught and its fullness of flavor and character have remained unchanged. Known for its unique taste, GUINNESS Foreign Extra Stout has an initial effervescent impact leading to a dry finish and a full bodied palate of roast character. It is produced using four basic ingredients: grain, water, hops and yeast. Yeast from each brew is transferred on to the next, so the original yeast's descendants are still in the GUINNESS Foreign Extra Stout we drink today.
"GUINNESS Foreign Extra Stout appeals to beer drinkers who love to explore beer and are looking for a serious stout," said Patrick Hughes, Brand Director, GUINNESS. "It is a unique beer with a distinctive taste, aroma and color and offers GUINNESS fans another way to enjoy the high quality, rich, satisfying GUINNESS experience that is the core of our brand."
The carbonated stout should be served in a branded GUINNESS goblet, but can also be enjoyed chilled straight from the bottle. To enjoy the perfect goblet of GUINNESS Foreign Extra Stout it requires a one-part pour at a 45-degree angle and a five step ritual: Chill, Release, Pour, Toast, and Enjoy Responsibly.  GUINNESS and its parent company Diageo, the industry leader in social responsibility advocacy, implore responsible consumption of GUINNESS Foreign Extra Stout just as they do with each of the GUINNESS offerings.
A favorite of many around the world, GUINNESS Foreign Extra Stout makes up 45% of GUINNESSsales globally. GUINNESS Foreign Extra Stout will be found in retailers that sell specialty beer in October 2010 with a suggested retail price of $9.49 for a 4-pack.
Please visit www.GUINNESS.com to learn more and remember to always drink responsibly.