Southeast Texas Time Capsule – Remember the Original Rodair Club?
Southeast Texas History – The Rodair Club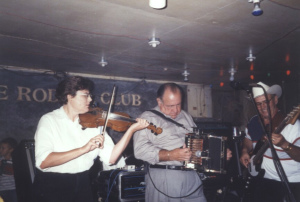 For Southeast Texas live music fans, the original Rodair Club in Port Acres,  was a stronghold of Cajun music for many years.
Going to the Rodair Club was a family affair with most parents bringing their children to this Cajun club every weekend.
The Rodair Club in the big city of Port Acres was a hot spot of Cajun music, dancing and drinking for generations in Port Acres.
Southeast Texas Cajuns remember well the wooden floors and two-stepping to "Jolie Blon" (a song recently featured in James Lee Burke's Dave Robichaux novels)  as children, then teens, and still later as adults. Some remember dancing with their parents, their spouses, and then their own children.
Although the original Rodair Club has been closed since 2004, it remains a Southeast Texas live music  legend in Port Acres.
Do you have a special memory of the Rodair Club? Send your thoughts or photos to EatDrinkSETX@gmail.com.
We received some new video from David Desormeaux of the day the beloved Cajun video closed. Click here for the video to play.
We hope you have enjoyed today's Southeast Texas History Spotlight.
Stay tuned for more.
Eat Drink SETX is your Golden Triangle lifestyle magazine – live and local 365 days a year.

Do you have a special Southeast Texas time capsule you'd like to see featured on Eat Drink SETX?
Daryl Fant,

Eat Drink SETX

(512) 567-8068
EatDrinkSETX@gmail.com