Jack's Pak-It – Beaumont & Lumberton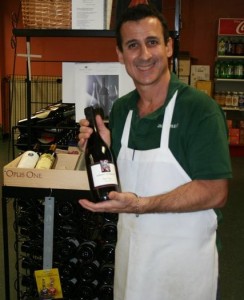 Beaumont Location:
4505 Calder Avenue,  Beaumont,  TX  77706
Days/ Hours Open:
Mon- Fri: 7a-7p / Sat: 8a-7p, Closed Sunday
Phone: (409) 892-6345
See Beaumont Menu

Lumberton Location:
78 N. LHS Dr. (or Hwy. 69), Lumberton, TX 77657
Days/ Hours Open:
Mon- Sat: 9a-6p, Closed Sunday
Phone: (409) 751-6888
See Lumberton Menu

Visit Jack's Pak-It Website
Join Jack's Pak-It on Facebook
Follow Jack's Pak-It on Twitter 
About Jack's Pak-It: Locally owned family run market serving custom cut meats, weekday home style plate lunches, full service deli, bakery, specialty products & treats!  Visit once and you won't go anywhere else for your meats & treats! Even better? They will remember your name! And you will get to know their butcher who cut your meat, their cook who made your lunch or even that casserole you fell in love with, and if you go to Jack's for a cake or pie, you will know the person who made it. Jack's Pak-It does full service catering for up to 100-125 people catering with ample notice and you can choose from all of Jack's dishes and meats. If you are having an office party or get together at home and you need party trays, you can count on the meats, cheeses and breads to be fresh! Stop by and have a cup of Seaport coffee with them anytime (it's on the house) , they always have a pot brewing waiting on you…that's just the kind of people they are!
Jack's Pak-It Products & Services: 
*Meat Market w/ Butchers on hand at all hours
—Full line of All Natural USDA Beef, Pork, Chicken, Lamb, and Veal
—Custom Cutting: Whatever size steak or meat you need. Jack's only uses wooden blocks to cut your meat on and you can actually watch as your order of steaks/meats get cut.
—Cooking of any meat we carry in any way you want it cooked. Jack's offers cooking instructions and recipe suggestions and also carry all the seasonings, marinates, & products to fulfill the recipes and suggestions that they give to you.
—Award Winning Markets at both locations
*Hot Lunch:
—Both locations serve an identical rotating menu Monday through Friday for lunch. A plate is an entree and two sides, but items can be bought ala carte as well. Become a fan of theirs on Facebook and each morning you can get your daily lunch special reminder from Jack's!
*Full Deli w/ cook on site at all hours
—Prepared Casseroles: Large variety of quart size meals with the option of larger sizes upon request with advance notice.   Heat and eat meals that are all done in about 30 minutes in a 350 degree oven.
—Custom cooking: From meats out of the market to sides of vegetables, fruits, appetizers, dips, and many other specialty items.
—Custom Trays: A variety of Sandwich trays, Dessert trays, vegetable or fruit trays, and appetizer trays.
—Prepared Foods: dips, salads, twice bakes, grilled or roasted vegetables, cooked meats, cakes and pies (whole or by slice, dessert bars (brownie, toffee, or lemon), many other desserts, and many other items.
*Wines and Imported Beers (Beaumont location only):
—Wines: Large variety from less than $5 and up to $150. Something for every taste bud! Full line of locally made Bruno and George Wines.
—Beer: Large variety of imported beers and domestic beers as well.
*Baskets/Boxes:
—Custom Baskets: Beautiful baskets with amazing bows made to order. All products that go into baskets can be picked out by you or let us fix you up after giving us an idea of what you are looking to get.
—Boxes: Typically steak boxes are our specialty. Boxes are just like the baskets and are custom made to your specifications. Great presentation with beautiful bows.