Lamar Cardinal Fans Tailgating Alternative – Kampus Korner
Tailgating Lamar games is awesome. The crowds, great food, and you're right in the thick of things.
Tailgating right is a lot of work. Grocery shopping. Icing the coolers. Getting a spot. Letting everyone know where you are setting up. Firing up the grill. Keeping the food hot and the drinks cold.
Once or twice each season it would be nice to have the fun of tailgating without all the work.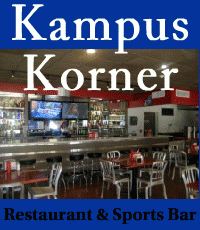 The answer is right on Lamar Beaumont Campus – Kampus Korner.
Skip the grocery store, leave the grill at home, and meet your friends at Kampus Korner for some of the best tailgating food in Southeast Texas.
Kampus Korner is a mix of bar food and comfort food with a few Greek and Middle Eastern favorites.
They have all of your traditional Lamar tailgate food:
And they have a few twists of their own
Kampus Korner also has premium ice cream. That is something hard to do at a traditional Lamar tailgate.
You love Lamar tailgating, we love Lamar tailgating. Some weeks you just need a break from the hard work of tailgating done right- preparation, setup, take down, cleanup.
On those weeks, call the crew and meet up at Kampus Korner.
Plus, if it rains, you'll look like a genius.