Can You Forgo Fancy for Taste?
by  Amy Allison
EatDrinkSETX.com Review Columnist
By Readers Request
I visited Pancho's after 10pm on a Saturday night. Pancho's isn't very welcoming from the outside and honestly the dining room is about as welcoming as the parking area. With that said, if you are looking for truly authentic Mexican (not Tex-Mex) consider braving the unknown and testing the menu.
What Pancho's lacks in décor they make up for in hospitality! This small humble eatery, owned by Francisco Garza, has only been opened for about a year. He was so friendly and never stopped smiling the entire time I was in the restaurant. He even personally brings food from the kitchen to the tables.
Mayra, who works at the counter, was just as friendly and explained many of the freshly made beverages that Pancho's offers. Such as Strawberries & Milk and Fruit Punch & Milk. I tasted the Fruit Punch and it was excellent, it includes fresh milk, and diced apples, mango, papaya, guava and strawberry. They also offer imported bottled beverages (Coke, Joya, Fanta, Manzanita Sol and Mundet) each for $2.00.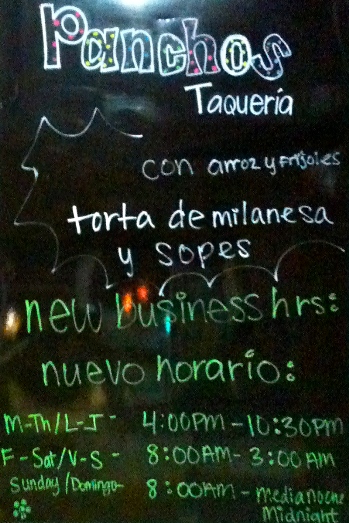 Pancho's menu includes only six items Tacos, Tortas (po-boys), Taco Piratas (soft tacos), Gorditas, Taquitos and a Taquito Plate.  On this night we ordered: a Taco Pirata $2.50 with pork; a Gordita $3.75 (similar to a corn pita stuffed with beans, cheese, and pork, topped with lettuce & tomatoes) and the Taquito Plate $6.99 (3 corn tortillas filled with beans and shredded beef and topped with fresh cream & cheese and served with rice and beans).
All of our menu selections were truly impressive. I really enjoyed the Gordita and the Taquito's (these are not fried like the Tex-Mex version).  All meals are served with freshly made green & red sauce; don't expect chips and salsa because Pancho's is a counter service style establishment.
The most unique thing about Pancho's, besides their truly authentic Mexican food, are the hours of operation. They are open till 3am! Most restaurants, with the exception of some fast food and breakfast places, close at 10pm. Even better is their close proximity to the Crockett Street Entertainment area; I would highly recommend a visit to Pancho's after a night out. It would be a welcome change to the standard waffles and pancakes.
If you are looking for breakfast, Pancho's opens at 8am Friday-Sunday and breakfast is "you call it!" That means they cook whatever you ask for because there is no breakfast menu. I had to verify this with the owner, Francisco, and he assured me that breakfast really was "you call it."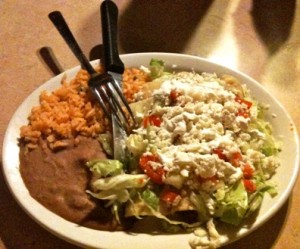 If you can imagine yourself enjoying a frosty imported Mexican Coke while listening to Spanish music drifting in from the kitchen while savoring the delicious aroma of freshly made tortillas and for just a moment this tiny unassuming eatery will take you hundreds of miles south to the border without ever leaving SETX. If you don't mind looks and have been searching for authentic Mexican food try Pancho's Taqueria.
Pancho's Taqueria
150 Mariposa between Laurel & MLK
284-0272 (cell)

Hours:
Mon-Thurs: 4pm-10:30pm
Fri-Sat: 8am-3am
Sunday:8am-midnight
Health Dept Rating: Above Average
Have something to tell Amy? Use the comment button below or drop her an email at amy.eatdrinksetx@gmail.com.