Think Pink to Eat!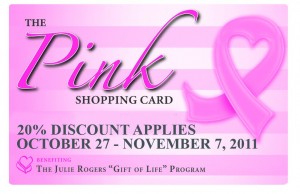 Save 20% for 12 Days, October 27 through November 7th at over 600 businesses in Southeast Texas.
With the Pink Shopping Card, an annual fundraiser for the  the Julie Rogers Gift of Life Program, you will help save lives in Southeast Texas!
See all of the Businesses that are a part of the Pink Card Here, and below is a list of all of the restaurants providing Pink Card discounts below..
Abbie's Import
Avila's Mexican Restaurant
Bando's
Barbara Bon Bon Bakery & Pasteleria
Baskin Robbins on 11th Street
Baskin Robbins Dowlen
Blackeyed Pea
Boomtown BBQ Company
Buffalo Wild Wings Beaumont
Buffalo Wild Wings Port Arthur
Cakes by Linda Bingham
Carla's Cupboard Cakes Coffee Café
Carrabba's Italian Grill
Casa Ole' Restaurant -Beaumont (IH-10)
Casa Ole' Restaurant – Beaumont -Target Center
Casa Ole' Restaurant-Jasper
Casa Ole' Restaurant-Lake Charles
Casa Ole' Restaurant-Orange
Casa Ole' Restaurant-Port Arthur (Central Mall)
Casa Ole' Restaurant-Port Arthur (Twin City)
Casa Ole' Restaurant-Silsbee
Casa Ole' Restaurant-Sulphur
Casa Ole' Restaurant-Vidor
Casual Entrees
Celeste's Tamales
Chick-fil-A – Dowlen
Chick-fil-A – Mid County
Chick-fil-A -Parkdale Mall
Chili's Grill & Bar-Beaumont
Colorado Canyon
Crazy Jose's-Lumberton
Crazy Jose's Restaurant- Beaumont
Crazy Jose's Restaurant- Orange
Davis's Donuts & Deli
D'Vine Wine Winery
Dylan's on 9th
Eaton Meats
Edible Arrangements
Elena's Express-Lumberton
Elena's Mexican Restaurant-Beaumont (College Street)
Elena's Mexican Restaurant -Beaumont (Phelan Blvd.)
Floyd's Cajun Seafood & Texas Steakhouse
Gator Country Theme Park
goodfellas
Great American Cookies (Central Mall)
Great American Cookies -Parkdale Mall I
Great American Cookies -Parkdale Mall II
Hamburger Depot -Beaumont (Cardinal Drive)
Hamburger Depot -Beaumont (Neches Street)
Hamburger Depot -Jasper
Hamburger Depot -Nederland
Hemingways Café
Homestyle Café & Catering
Honey B Ham
Jason's Deli -Beaumont (Dowlen)
Jason's Deli -Beaumont (Gateway)
Jason's Deli -Port Arthur
Kitchen Koncepts
La Fiesta Mexican Restaurant
Larry's French Market & Cajun Restaurant
Logan's Roadhouse
Logon Café
MacKenzie's Pub
Madison's on Dowlen
Maggie Moos Ice Cream
Main Dish Studio Kitchen
Major League Grill
Mike and Terry Hamilton's Catfish Kitchen
Mouton's Catering, Inc.
New York Pizza and Pasta -Beaumont (Calder)
New York Pizza and Pasta -Beaumont (Neches )
New York Pizza and Pasta -Vidor
Novrozsky's-Beaumont
Novrozsky's -Jasper
Novrozsky's -Lumberton
Novrozsky's -Nederland
Novrozsky's -Orange
Novrozsky's -Silsbee
Novrozsky's -Vidor
Oasis Coffee House & Café
Old Orange Café
Outback Steakhouse
Papa John's Pizza -Beaumont
Papa John's Pizza -Nederland
Papa John's Pizza -Orange
Pinehurst BBQ Co. -Orange
Pinehurst BBQ Co. -Bridge City
PK Grill
Pretzel Maker
Rafael's Mexican Restaurant -Lumberton
Rao's Bakery Coffee Café -Beaumont (Baptist Hospitals of SETX)
Rao's Bakery Coffee Café -Beaumont (Calder)
Rao's Bakery Coffee Café-Beaumont (Dowlen )
Rao's Bakery Coffee Café -Port Arthur (Central Mall)
Refresh Juice Bar
Robert's Restaurant & Steakhouse
Saltgrass Steakhouse
Sam's Package Store
Sanderson's Restaurant & Bar
Sartin's West
Schlotzsky's Deli -Beaumont
Schlotzsky's Deli -Port Arthur
Sea Ranch Café & Catering
Seafood Lover Inc.
Senor Toro's Mexican Restaurant-Orange
Sertino's Café-Beaumont
Sertino's Café -Port Arthur
Something Special Cake Designs by Julana
Something Sweet Bakery
Starvin Marvin's Bar & Grill
Stingaree Restaurant & Bar
Sweet Creations
Taste of China
Taste of Orleans @ Gator Country
Texas Roadhouse
The Barking Dog Café Lounge
The Beaumont Club
The Café
The Courtyard Café
The Jumping Bean Coffee and Gift Co.
The Patio
The Tamale King
Two Magnolias
Wings To Go
Wright's BarBQ