Plan Your Beaumont Holiday Catering Now at Bando's
Bando's became one of Southeast Texas' premier caterers by providing:
Quality
Variety
Value
Service.
These remain the four Pillars of Bando's Beaumont catering.
Your Southeast Texas office holiday party is right around the corner- lock in your catering with Bando's.
Debbie and her team will ensure that you have a wonderful event that exceeds your employee and client expectations- and that keeps you on budget.

When you close your eyes and think of your perfect Southeast Texas holiday party, what do you see?
Let's start with appetizers? What do you, your employees, and your clients really like?
Miniature Crawfish Pies
Hot Crab Dip with Baguettes
Grilled Shrimp with Cocktail Sauce or Apricot Glaze
Asian Barbecue Lettuce Wraps
Louisiana Crab Cakes
From simple appetizers to elegant, Bando's can cater it all.
Click here for a more comprehensive list of Bando's holiday catering appetizers.
Okay, let's move onto something more substantial. How about some really cool food bars where you and your guests can choose delicious entrees to be custom prepared for you?
A Taste of Old Italy? This station offers your guests two kinds of pasta, with Mama Marie's homemade Alfredo & Marinara Sauces; they will enjoy toppings sautéed by our Chef to include Sun-dried tomatoes, sliced mushrooms, diced onion & artichoke hearts. Then top off their Pasta Sensation with fresh Parmesan Cheese.
Guacamole Bar? Avocado trees, with attendant hand making guacamole from scratch in front of your guests! Served with fresh fried home made chips.
Slider Station? Homemade mini buns, griddled with butter in front of your guests. Next we add a Black Angus mini hamburger patty and top it off with your favorite cheese – Maytag blue, brie, havarti, goat or cheddar! If you want it real gourmet – add sautéed mushrooms or caramelized onions. Served with homemade chips.
South of the Border Bar? This Mexican specialty brings to your guests Spicy & Bold flavors of the Border with Chicken, Beef or Pork Fajitas, Quesadillas, along with all the fixings to make it a feast. Chili con queso dip with Tortilla Chips and Salsa. This one is extremely popular at Southeast Texas plant and industrial construction/maintenance parties.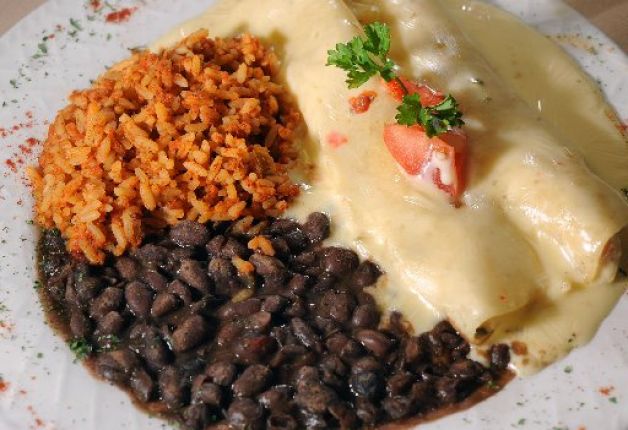 Bando's can provide all of these and so much more.
Click here for an expanded list of creative stations Bando's can create for your Southeast Texas Holiday Party.
Bando's creates everything from scratch, so really you are only limited by your imagination – and time. Call today to reserve Bando's to cater your Southeast Texas holiday party.
Address: 215 N. 11th Street, Beaumont, Tx
Phone: (409) 212-8445
Bando's Custom Page on EatDrinkSETX.com