Sinfully Delicious Italian
by  Amy Allison
EatDrinkSETX.com Review Columnist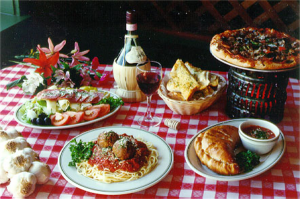 Mike Salisu, owner of Napoli's Italian Restaurant in Lumberton, has been in the food service industry for ten years. With other successful ventures such as Joe's Pizza & Pasta in Beaumont and Silsbee, his customers were begging for a Lumberton location, so Mike opened Napoli's. Napoli's opened just six short months ago on Main Street and is quickly becoming a favorite for local diners.
Napoli's is a family owned and operated restaurant. This humble eatery, tucked away in a small shopping center, is barely even noticeable to most travelers on Hwy 96. Once inside you will be greeted by the sounds of Italian Opera, the smell of fresh baked bread, and possibly even be able to catch the latest soccer match on one of the two flat screens TV's. Napoli's isn't about expensive décor or a posh interior it's about traditional Italian comfort food.
Napoli's offers a vast menu of traditional pasta favorites as well as chicken and seafood choices such as: Chicken Della Chef ($9.95), sautéed chicken breast with mushrooms, artichoke hearts & roasted red peppers in white wine pink sauce over spaghetti or Shrimp Diablo ($11.95), shrimp sautéed with mushrooms, onions, green peppers, roasted red peppers & jalapenos in a marinara sauce over spaghetti. Napoli's also offers a selection of pizza and other pizzeria favorites such as calzone and stromboli, hot subs, appetizers, salads and desserts. Eleven different daily lunch specials are available for under $6.95.
For lunch I suggest trying the Chicken Costentini($6.95), chicken breast sliced and sautéed with artichoke hearts, mushrooms & onions in a creamy wine sauce over fettuccini pasta, perfect comfort food for this cool weather!  You will seriously consider licking the sauce off your plate… I am always a fan of Egg Plant Parmigiana ($9.95), Napoli's version is topped with marinara and smothered in cheese that is dense enough to cut with a fork. The Egg Plant is paired with spaghetti but could be substituted for another traditional pasta upon request. If you enjoy an appetizer with your meal try the Artichoke & Shrimp Dip ($6.95), artichoke hearts, shrimp, garlic & spinach sautéed with a creamy alfredo sauce served with extra homemade rolls. This dip is so creamy and savory, it's a perfect beginning to any of the Napoli's menu items.
All Napoli's meals are served with warm homemade rolls and a house salad. Meals range in price from $7.25-$13.95. Napoli's is great choice for any occasion and for all diners. They offer dine-in or take out, catering and party trays. You can also reserve Napoli's for special events or large gatherings. Napoli's is a great family owned establishment that prepares sinfully delicious food, you won't be bringing home any left over's.
Napoli's Italian Restaurant
835 South Main St.
Lumberton, TX
Tel: (409) 227-4611
Mon: Closed
Tue – Sat : 11AM – 9:30PM
Sun: 11AM – 9PM
Have something to tell Amy? Use the comment button below or drop her an email at amy.eatdrinksetx@gmail.com.