Southeast Texas Sushi Lovers Flock to Tokyo Beaumont & Mid County
When it comes to sushi, Southeast Texans look for freshness and inventiveness.
When it comes to hibachi, Southeast Texas diners look for flash, fun, and flavor.
Tokyo's three Southeast Texas locations provide all of these elements  in a very soothing and attractive atmosphere.
The success of Tokyo's Beaumont location came from not just being Beaumont's premier sushi restaurants, but really two of Beaumont's best restaurants overall.
You might expect Tokyo to get rave reviews for their sushi and hibachi, but Southeast Texas foodies also consistently praise their bar, staff, and overall quality.
It was a welcome surprise to Southeast Texas sushi lovers when Tokyo constructed a beautiful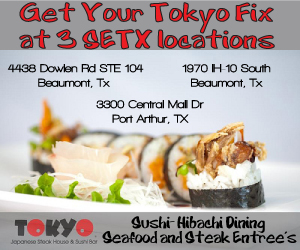 restaurant in Mid County.
All three (Dowlen Road, I-10 Beaumont, and Mid County) have remained extremely popular ever since, a testimony both to the quality of food and complete dining experience.
All three Southeast Texas Tokyo Steakhouse and Sushi Bar locations are extremely popular for:
Memorable Southeast Texas First Dates
Truly Special Anniversary Dinners
Enjoying Fun Fine Dining Before Southeast Texas Proms
Making the right impression – or a memory of a wonderful Southeast Texas dining experience.