The Cajun Queen – Caroline Picard will soon own a Beaumont Stage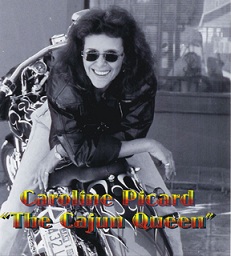 The one and only Cajun Queen herself, Caroline Picard! Her "don't give a damn" attitude is revitalizing, especially in the world of female comedy. Her style is all her own and can be compared to no one.
This national and international touring comic for over 12 years, Caroline Picard is a Louisiana-bred lady with what she calls a "Hot Flash Attitude"!
"Hell, I'm 54, I'm all grown up, I say what I want, why? Because, I can; I've paid my dues, in more ways than one. I've worked for the phone company, most major Oil and Gas corporations as an Executive Financial Secretary, and I've run my own restaurant. I've been laid off, downsized, and with the restaurant, lost everything I owned. I can still do the same things now that I did when I was 20, evidently I didn't get that "Now that you're over 50 you die" memo. If I did, I damn well didn't pay attention to it." "If you are easily offended, then leave my planet, it's time to grown up and get your head out of the sand".
Everyone and everything is fair game to this very funny lady! If you want politically correct, don't go to her show, but if you want the truth, get to Laugh Out Loud Beaumont this Friday or Saturday night (Aug. 24 & 25) , grab a drink and enjoy her show!
Laugh Out Loud Beaumont
lolbeaumont.com for info on Tickets
3684 College Street, Beaumont, TX
(in the old Gateway Theater)