Tokyo Japanese Steakhouse & Sushi Bar Southeast Texas Holiday Gift Certificates: Buy $50 Get $10 FREE
Tokyo Japanese Steakhouse and Sushi Bar has lots of wonderful gifts for Southeast Texas diners this year.
First, a great holiday menu that elevates food and drink to art (something Tokyo specializes in) and a wonderful special on Tokyo Gift Certificates.
Here's the amazing holiday menu: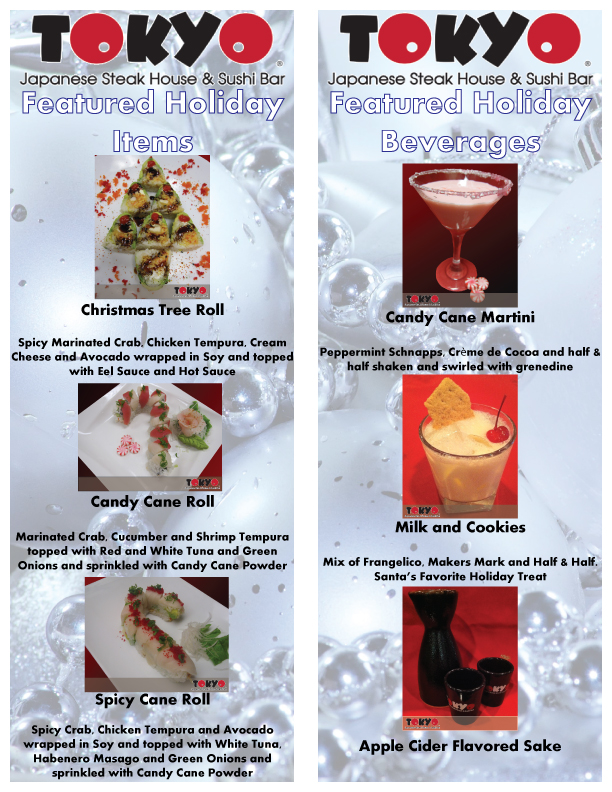 Tokyo Steakhouse and Sushi Bar presents the Southeast Texas gift that gifts you back.
Buy $50 in Tokyo gift certificates during the holidays
Tokyo will give YOU $10 in free Tokyo gift certificates back
Tokyo Steakshouse and Sushi Bar gift certificates are a wonderful gift for:
A parent who enjoys fine dining – and fine company
A client who helped make 2013 a special year
A child who learned their love of life's finer things from you
A friend you promised you'd stay in touch with – now is the perfect time to show you meant it
A spouse who values dinner with you above all of life's other luxuries.
The gift of Tokyo says, "You're someone special to me".
Tokyo's gift back to you says that you're special to Tokyo.
Merry Christmas from Tokyo Dowlen Road, Tokyo I-10 Beaumont, and Tokyo Mid County.