Dippity's – Lumberton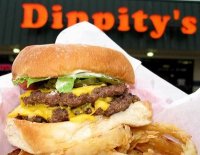 Venue: Dippity's
Address: 815 S. Main St., Lumberton, Tx
Hours/ Days Open: Daily
Phone: (409) 755-3632
Visit Facebook Page
Get Dippity's Menu Here
Description:  World famous, Dippity's cooks up an American classic, old school style burgers, the kind that drips with flavor.  Hand formed  meat patties – Dippity's beef is ground fresh daily!  They even make their own home made buns and has some of  the best homemade onion rings you have ever tasted.. the small order is enough for 2 people to have large shares! Dippity's has been been made famous by being on several statewide and national Best Burger lists!