Size Still Matters – at Novrozsky's

Novrozsky's is "our" Southeast Texas restaurant chain.  There are 7 locations in Southeast Texas (Beaumont, Vidor, Lumberton, Nederland, Jasper, Orange and Silsbee) and one in Southwest Louisiana (Sulphur).
The menu varies from many kinds of gourmet burgers to salads, grilled & fried seafood & chicken plus no less than 9 varieties of baked potatoes.
Novrozsky's restaurants are casual with both booths and tables and are kid friendly with 3 kiddie entrees under $3 each.  The Dowlen Road facility has several big screen tv's and also offers beer and wine, even chilled mugs!  The Dowlen Novrozsky's location offers rive through is available for those on the go.
The Silsbee location boasts a beautiful patio dining area complete with a fire place.
When you walk into any Southeast Texas Novrozsky's location you are greeted by a large menu board which describes the food choices in detail.
Eating healthy? Novrozsky's:
Fries in trans free fat oil- that's a good thing!
Has grilled chicken, tuna, salmon, and mahi mahi
Offers several salads
Has perfected the turkey burger and Southeast Texas veggie burger
You place your order, pay and wait for your number to be called.  On a recent lunch time visit we waited only about 10 minutes for our food to be ready.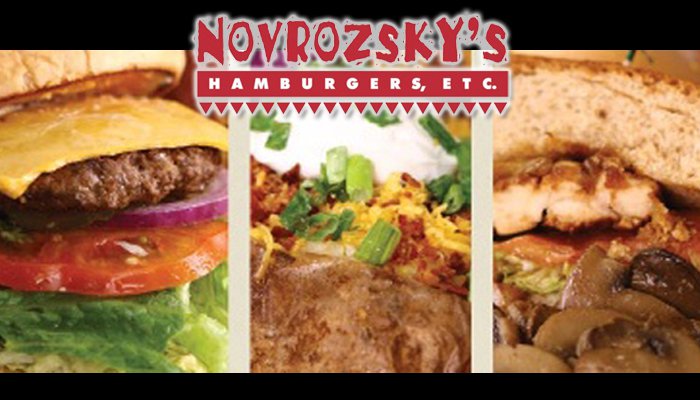 I opted for the old standby Chicken Fried Steak.   I got the large plate which consists of 2 very good sized cutlets smothered in cream gravy with a side of Texas toast for $8.75.  The single size is $5.95. I really like a good Southeast Texas chicken fried steak and Novrozsky's does chicken fried steak right!  Nolan Ryan beef cutlets are fresh cut and tenderized then hand battered and fried crispy.  Cracked pepper and a really good beef combine for a tasty delight.  The cream gravy is top notch as well making the combination of meat, breading, and spices just about perfect.
I really like the Novrozsky's fries, so I ordered those as well. Novrozsky's fries are available in regular, seasoned, cheese, or sweet potato versions.  On the table is ketchup, salt, pepper and another shaker of spice similar to Tony Chachere's Cajun seasoning.  Louisiana hot sauce is also nearby.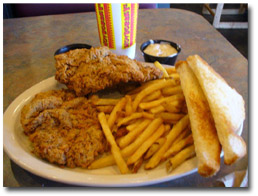 My lunch partner had the chicken ranch wrap which is available either fried or grilled for $7.25 which includes salsa and chips. The chicken is wrapped in a soft moist green tortilla and is stuffed with lettuce, tomatoes, cheddar cheese and ranch dressing.  This is really good either grilled or fried though I do prefer the fried variety.
I also saw someone order a nachos platter, it was enormous!  Definitely enough on the nacho plate for 2 or 3 people and boy, did it look good!
That's now on my list for my next visit to Novrozsky's.
From Jasper to Mid County to Orange, in Southeast Texas you're never far from Novrozsky's.