The Texas Renaissance Festival's "Five Bucket" List Delights to Die For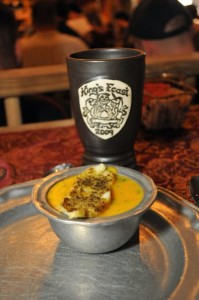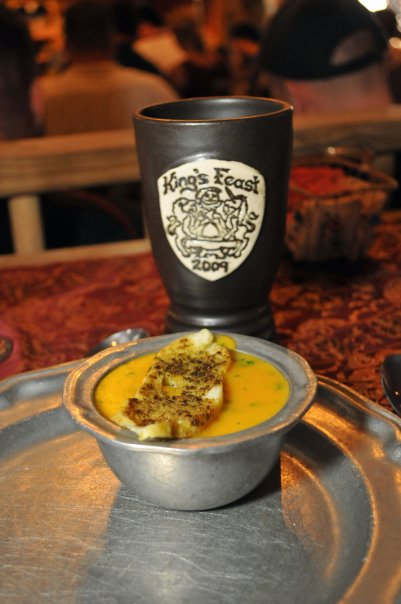 The Texas Renaissance Festival is not just about jousting, amazing performances, fabulous shopping, fireworks, games, rides and having a 16th Century jolly "goode tyme!" The Festival offers up and incredible depth and width of culinary delights too. For those who welcome the standard fare of funnel cakes, fried ice cream and turkey legs, the Texas Renaissance Festival will not disappoint. However, guests with a more discriminating palette will be overwhelmingly surprised.
During the past 38 years, the Festival has assembled the finest collection of gourmet food purveyors serving authentic international cuisine including Polish, Spanish, French, English, Greek, German, and Italian fare.
With literally thousands of menu items available, guests can enjoy everything from French Fried Louisiana Yams, Buffalo Frog Legs, Fried Stuffed Olives, Crawfish Etoufee, Prime Rib, Butternut Squash Bisque to Seafood Corfu, Kartoffel Salad, Lasagna, Lamb Gyros, and the Queen's favorite…Cinnamon Roasted King's Nuts – just to name a few.
Satisfying a sweet tooth is also simple in a Kingdom full of sumptuous delights. The Royal Family's favorites include Apple Dumplings and Ice Cream, Chocolate Dipped Cheesecake, Pumpkin Upside Down Cake, Truffles and Pudding in a Cone. Hark, the finest dishes are yet to come!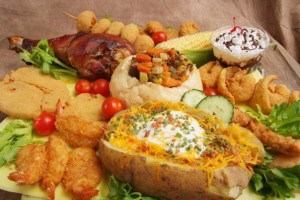 The Texas Renaissance Festival has named its top five pallet pleasing signature items that are "to die for" and tasting them deserves placing on everyone's Bucket List.
1. Scotch Egg: Chefs at The Queen's Pantry individually prepare each Scotch Egg by hand. The egg is hard boiled, peeled and rolled in a seasoned sausage and bread crumb mixture and then deep fried to perfection.
2. Polish Dill Pickle Soup: Polonia's Dill Pickle Soup or zupa ogorkowa, is a hearty dish which combines unique Polish spices with pork, potatoes, dill pickles and sour cream. As odd as that sounds, it is fabulous and pairs perfectly with a slice of rye bread.
3. Greek Spanakopita: Spanakopita can be found at The Greek Agora and is an authentic, very rich pie stuffed
with spinach, onions, cheeses and herbs that are all enfolded by thin layers of light, crispy, flaky phyllo dough.
4. Apple Pie Porridge: This good for you breakfast dish tastes satisfyingly sinful! The Queen's Pantry slow
cooks cinnamon and pumpkin spiced apples in a porridge of steel cut oats dressed with raisins for a hearthealthy breakfast alternative.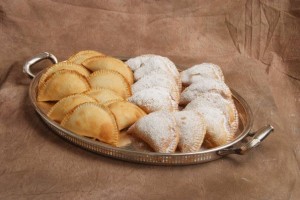 5. Bolivian Empanadas: Mrs. Ligia Giles, or better known as "The Empanada Lady," creates these delightful halfmoon shaped pastries filled with seasoned meats, vegetables or fruit from recipes she has perfected over 36 years.
The Texas Renaissance Festival (TRF) is in its 38th year and is the Nation's largest, most acclaimed Renaissance theme park where the sights, sounds, tastes and beauty of the 16th Century come alive for 8 magically themed weekends. TRF welcomes more than 400,000 guests annually and features 200 daily performances; 340 merchants including international food purveyors and unique artisan and craft shoppes; humanpowered rides; an abundance of strolling performers and the Royal Fireworks display at dusk.
The Festival is held Saturdays, Sundays and Thanksgiving Friday,  October 6th through November 25th, 2012. TRF is located 50 miles Northwest of Houston on more than 50 acres of beautifully landscaped grounds on FM 1774, between Magnolia and Plantersville, Texas (www.texrenfest.com). Parking is free and campsites are available for an additional charge. TRF telephone: 800.458.3435