The Grill by Arfeen Smith & Payne – Beaumont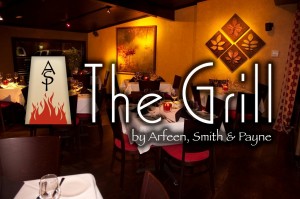 Venue: The Grill by Arfeen Smith and Payne
Address: 6680 Calder Ave, Beaumont, Texas 77706
Phone: (409) 866-0039
Hours: Open Tuesday thru Saturday (*Open Sundays on Special Holidays)
–Cabana opens at 3p.(Tuesday- Saturday)
–Main Dining opens at 5p, (Tuesday-Saturday)
See The Grill's Dinner Menu's Here
About The Grill: The Grill is a destination spot. If you want the look and feel of Houston's premier upscale casual dining, you no longer have to drive any further than down the street!  The Grill offers a warm and inviting atmosphere where you will be just as at home with your friends, sharing a glass of wine and good conversation as you will be dressed to the nines before the Symphony or hosting that business meeting and dining with your clients.
The Grill's award winning cuisine shows a commitment to quality and passion for bringing different and unique flavors to the table shine through in every bite and every savory nightly feature he creates!  In addition, the service is second to none with a friendly and attentive waitstaff, linen tablecloths and napkins, candlelight and music.
The Patio & Cabana host live music and the largest, most lux, relaxing outdoor area this side of Los Angeles. Sit and enjoy something from The Grill's vast bar, stocked with the best liquors, bourbons, scotches, vodkas etc., try one of their specialty drinks, or sip from their elaborate wine list which boasts everything from your favorite daily glass to top notch winery selections from around the world.
The Cabana Bar is a great place to watch the game,  enjoy a date night, hang out with your friends… or meet new ones.  With Happy Hour daily from 3pm-7pm in the Cabana or on the Patio.
Entertainment Schedule:
(all bands play approx 6:30-9:30pm)
THURSDAYS!