Tony's Does Hickory
by John Ingram
EatDrinkSETX.com Guest Columnist
In case you haven't seen the bright yellow and red barbecue restaurants around town called Tony's, follow your nose on in!  You will find a variety of hickory smoked meats, sides and made to order grilled steaks at an affordable price.  There is a great lunch special each day as well as 3 kid meals (12 & under) for less than 5 bucks!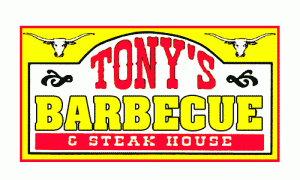 These casual dine in or to go restaurants are family oriented with both booths and tables, the Target Center one also has some big screen TV's. Peruse the varied menu and your taste buds will go into hyper mode as you decide which entrée to choose.  The link sausage is fabulous here and don't bother with the sauce, you won't need it.  The hickory smoked meats are also so flavorful you may not need the sauce, I never use it.  My other favorites are the smoked ham and the chicken.  Also popular in my group is the brisket, ribs and turkey breast.  If you can't decide try a two meat or three meat combo plate on for size.  You may even find that on special if you are lucky!
All of the dinners include a generous portion of meat along with 2 sides of your choice (Corn Bake, Pinto Beans, Baked Beans, French Fries, Potato Salad, Cole Slaw, Dirty Rice, Mixed Cajun Vegetables, and Green Beans) a homemade roll and a trip to the condiment bar which has a variety of pickles and peppers.  All the meats are also available as a sandwich as are some really delicious pit grilled hamburgers, among the best in town in my opinion.
Steak dinners run from under $13 to about $20 and include French fries or baked potato, a side salad and homemade rolls.
One of the more interesting and excellent menu items is their barbecued baked potato which includes a big old baked spud jammed with butter, sour cream, cheese, chives and your choice of meat either in it or on the side.  Believe me, this is plenty for a lunch or dinner as they do not skimp on the meat or the size of the potato.  This is a bargain at just over $7, but if you come for lunch on Monday's you can get it for under $6! Beverages include soft drinks with free refills and both domestic and imported beers. Desserts include peach and blackberry cobbler available plain or ala mode, and coconut, chocolate or pecan pie.
My family has also bought their meat by the pound for holiday dinners.  Ranging in price from $9.75 to $11.75 is your choice of 6 meats.
Tony's has 6 locations in southeast Texas, 2 in Beaumont, one in the Target shopping center and one near the corner of Calder and Interstate 10.  One on Twin City Highway north of 73 in Groves and one on 69 south of 73 in Port Arthur. Then  one in Mont Belvieu (Hwy 146 north of Interstate 10) and another in Channelview on Sheldon road.
The locations are open Sunday through Thursday 11-9, and Friday & Saturday 11-10.
You can taste the Hickory!
Tony's Barbecue & Steak House