Beer Sticks for Opening and Holding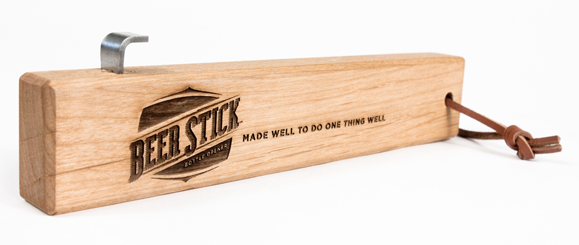 Beer Stick .  "Made in the USA" by a husband/wife team that came up with  the idea for the business while attending a wedding  where some of the guests used a rough version of the stick to open their beers.
Simple, Durable. and doesn't cost much more than a 6 pack, but lasts much longer than one! Oh and their T-shirts are pretty cool too!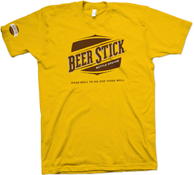 Beer Sticks are only $12 plus $2 shipping, the T-s are even cheaper – only $10 plus $2 shipping!
"Get your very own Beer Stick, to love and hold and to pet and to love and you will call him George… or whatever…"
You can order these directly from their website 
Here's another Beer drinkers helper. The makers of this beer gadget say the reason your beer doesn't stay cold is because you are holding it in your hand. Makes perfect sense to us!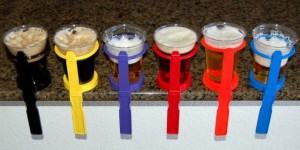 So, you take it out of your hand and place it into this company's own version of a  "Stick" –  and they call theirs "The Beer on a Stick"…There is some assembly required when you take it out of the box it's shipped in. Paypal told us the cost was only $1 each.
*UPDATE about Beer on a Stick    "RED is the only color they currently have in stock".