Casual Entrees – Beaumont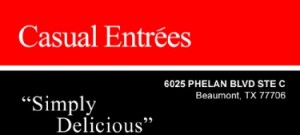 Venue: Casual Entrees
Address: 6205 Phelan Blvd. , Beaumont Tx 77706
Hours/ Days Open:
Sun: 6a-4p
Mon-Sat : 6a-9p
Phone: (409) 861-4247
Visit Website (New Site Coming Soon)!
Description: Authentic home style cooking, including all of your southern comfort foods like Chicken Fried Steak, Chicken Fried Chicken, Grilled Pork Chops, along with seafood favorites like  Shrimp Alfredo and Grilled Catfish. Also,  lots of home style side dishes and desserts! Casual Entrees Serves Breakfast, Lunch & Dinner 7 days a week.  Home style  Breakfast is served Monday thru  Sundays til 12 noon. HomeStyle Breakfast Special: Get 2 Eggs, 2 Pancakes, 2 Bacon (or Sausage) for only $4.99, they even have a kids breakfast for only $3.99!. Delivery is also available , within a limited area,  for orders over $25!! Casual Entree's also caters for any size special event and weddings, too!
Get Casual Entrees Menu Here NEW!