Casual Entrees – Beaumont Diner Done Right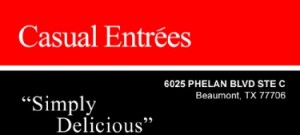 Venue: Casual Entrees
Address: 6205 Phelan Blvd. , Beaumont Tx 77706
Hours/ Days Open:
Sun: 6a-4p
Mon-Sat : 6a-9p
Phone: (409) 861-4247
Beaumont Restaurant Information:
What makes Casual Entrees one of the most popular Beaumont restaurants for Breakfast, Lunch, and Dinner?
Southeast Texas diners have never had a restaurant that blended "Beaumont Diner" with "Beaumont fine dining".
That is what Casual Entrees offers its loyal fan base.
At Casual Entrees you can get a delicious steak dinner or grilled Gulf of Mexico seafood entree or enjoy an eggs-bacon-toast breakfast that would be at home in a favorite New York City diner.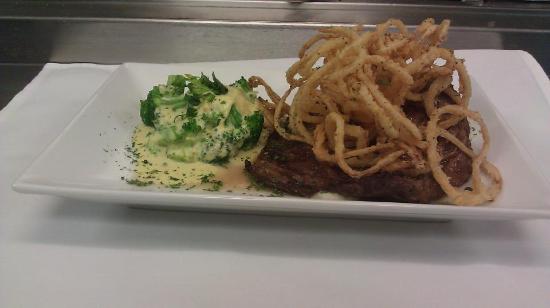 Chef – and Casual Entrees Owner- Ernest Jackson nimbly walks that line between "Beaumont fine dining" and "Beaumont diner".
Casual Entrees is Beaumont's Authentic home style cooking restaurant.
This Southeast Texas foodie favorite wins rave review for Southern style favorites including chicken fried steak, smothered chicken, and diners choice of fried or grilled shrimp.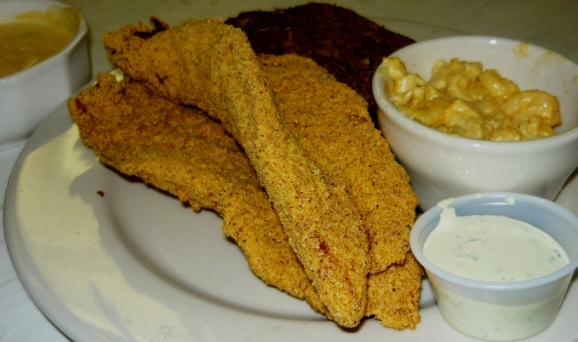 Casual Entrees also impresses with Beaumont seafood favorites like  Shrimp Alfredo, Grilled or Blackened Red Snapper, and Grilled Catfish.
Casual Entrees also knows that side dishes are an important part of a great Southeast Texas dining experience. Casual Entrees owner Ernest Jackson makes sure each side dish lives up to the quality of his excellent entrees. Beaumont diners rave about Casual Entree's okra and tomatoes, turnip greens, sweet potatoes, and macaroni and cheese.
Casual Entrees Serves Beaumont Breakfast, Lunch & Dinner seven days a week.
Beaumont Diners praise Casual Entrees for offering some of Beaumont's best breakfasts. Casual Entrees is regularly voted "Beaumont's Best Breakfast". Home style breakfasts are served Monday through  Sundays from opening to noon. Southeast Texas diners rave that Casual Entrees consistently offers Beaumont's best pancakes, Beaumont's best chicken and waffles, and praise the consistent high quality of Casual Entrees breakfast items. Popular with SETX parents is the Beaumont kid's breakfast for $3.99.
After all – breakfast is the most important meal of the day!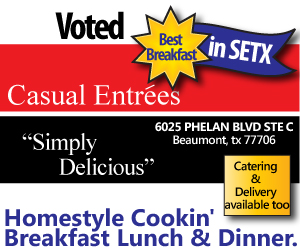 HomeStyle Beaumont Breakfast Special: Get 2 Eggs, 2 Pancakes, 2 Bacon (or Sausage) for only $4.99.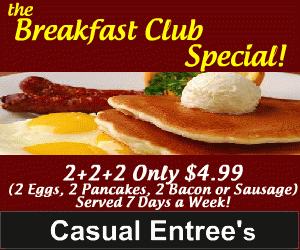 Beaumont Restaurant Delivery:
Beaumont meal delivery is available , within a limited area,  for orders over $25.
This is great for Beaumont office lunches when your team just can't get away.
Have salads, fried fish, grilled seafood, or even steaks delivered in Beaumont.
Southeast Texas Catering:
Casual Entree's has a reputation as one of the top Beaumont caterers. Casual Entrees offers:
Beaumont wedding catering
outheast Texas family reunion catering
Golden Triangle corporate event catering
Beaumont company party catering
Family catering for Mother's Day, Thanksgiving, Christmas.
If you're looking for a Southeast Texas caterer that excels with comfort foods and Southern style cooking, Casual Entrees merits strong consideration.
Get Casual Entrees Menu Here NEW!