Get Out Your Favorite Cow Costume!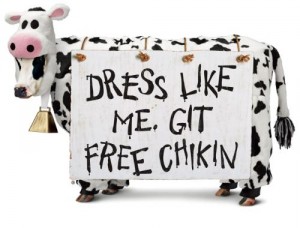 Holy Cow! It's time to break out your cow-spotted apparel and leave your wallet out to pasture. On Friday, July 8, Chick-fil-A® restaurants nationwide will celebrate the annual Cow Appreciation Day event by offering a free meal to any customer who visits one of the chain's mall or stand-alone restaurants fully dressed as a cow.
This year, customers who aren't too chicken to dress completely as a cow will again be rewarded with a free Chick-fil-A Meal (breakfast, lunch or dinner), which includes an entree of choice, a side item and a medium Dr Pepper® (or other beverage). For those too chicken to wear full cow costumes, Chick-fil-A will award a complimentary entree to customers partially dressed in cow attire, such as a cow-spotted scarf, purse, tie, hat or other accessory.
Chick-fil-A recently launched a special website dedicated to the occasion www.CowAppreciationDay.com.  In addition to providing further details about the event, the site offers cow costume ideas, downloadable cow spots, masks and other bovine-themed accessories for customers to use in creating their costumes. Chick-fil-A is also organizing a photo contest that will be co-hosted on the Cow Appreciation Day site and the chain's Facebook page. Chick-fil-A will offer a number of categories where the best cow-dressed customers will have the chance to win various prizes. Customers can upload photos for the contest from July 8 – 31.