It's pih-KAHN, not PEE-can !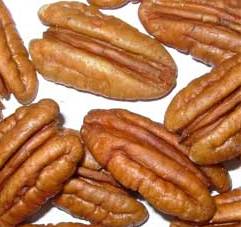 Think you have the best tasting appetizer, dessert, or even a main dish that has pecans in the recipe? The Texas Pecan Festival in Groves is your chance to show it off! Get your entry in for the Pecan cooking contest!
Texas Pecan Festival – in Groves
Thursday, September 20, 2012-Sunday, September 23, 2012 at Lion's Park located at the corner of Lincoln Ave. and Jackson Blvd. in Groves.

And as always, there will be the annual Texas Pecan Festival Treasure hunt, a parade, entertainment, the pecan toss, Pecan Queen Pageant, a pet show and more!
Pecan Pizza
(This recipe comes  from the Groves, Texas Chamber of Commerce)

Ingredients
1 cup butter or margarine, softened
1/2 cup sugar
1 teaspoon vanilla
2 cups uncooked oats, quick or old fashioned
1 1/4 cups flour
1/2 cup fruit preserves (a mix red and yellow fruit preserves works well)
1 cup chopped pecans
Instructions
Preheat oven to 350° F. Beat butter, sugar and vanilla until fluffy. Combine oats and flour and stir into butter/sugar mixture. Divide dough into 4 equal portions. Place 2 portions on opposite corners of a large, un-greased cookie sheet; press each into a circle about 1/8″ thick, and press 1/2″ of the outer edges with the tines of a fork. Repeat with other two portions.
Bake for 15 – 20 minutes or until lightly browned. Remove from over and spread preserves in center of each circle; sprinkle with chopped pecans. Cool 10 minutes on cookie sheet, then cut each circle into 8 wedges. Cool completely then serve.
Texas Pecan Festival at Lions Park
Jackson Street at Lincoln Avenue, in Groves