At Bando's Beaumont Romance Blossoms Valentine's Eve – Make Reservations Now.
Bando's has long been a favorite Beaumont lunch destination.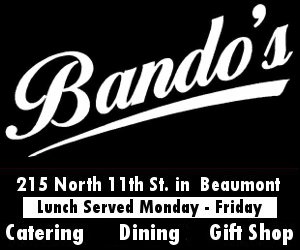 This year Bando's  will stay open late for your Beaumont Valentine's Day dining and will offer a special hand crafted Valentine's experience.
As you would imagine, seating is limited for the Bando's Valentine's Dinner – and will fill up fast.
To reserve your spot, please do call today.
Bando's is the perfect place to celebrate Valentine's Day in Beaumont.
Enjoy wonderful food, discover a new wine, and enjoy the company of your Valentine.
Best wishes for a wonderful Valentine's Day Beaumont.
To make your Bando's Valentine's Dinner reservation, please call:  (409) 212-8445

Address: 215 N. 11th Street, Beaumont, Tx
Normal Business Days/ Hours: Monday – Friday 9a-5:30p