Beaumont Boys Haven Fish Fry today
Are you looking for a fun, filling, feel good event after your Southeast Texas church service today?
Don't miss the 2014 Beaumont Boys' Haven Fish Fry today.
This event has it all.
Fun: Food, Bingo, Fellowship
Filling: Enjoy someofthe best crispy fried catfish in Southeast Texas, french fries, hush puppies, and iced tea
Feel Good: All proceeds benefit Boys' Haven and Southeast Texas boys in need.
Here are the details for today's Beaumont Boys Haven fish fry: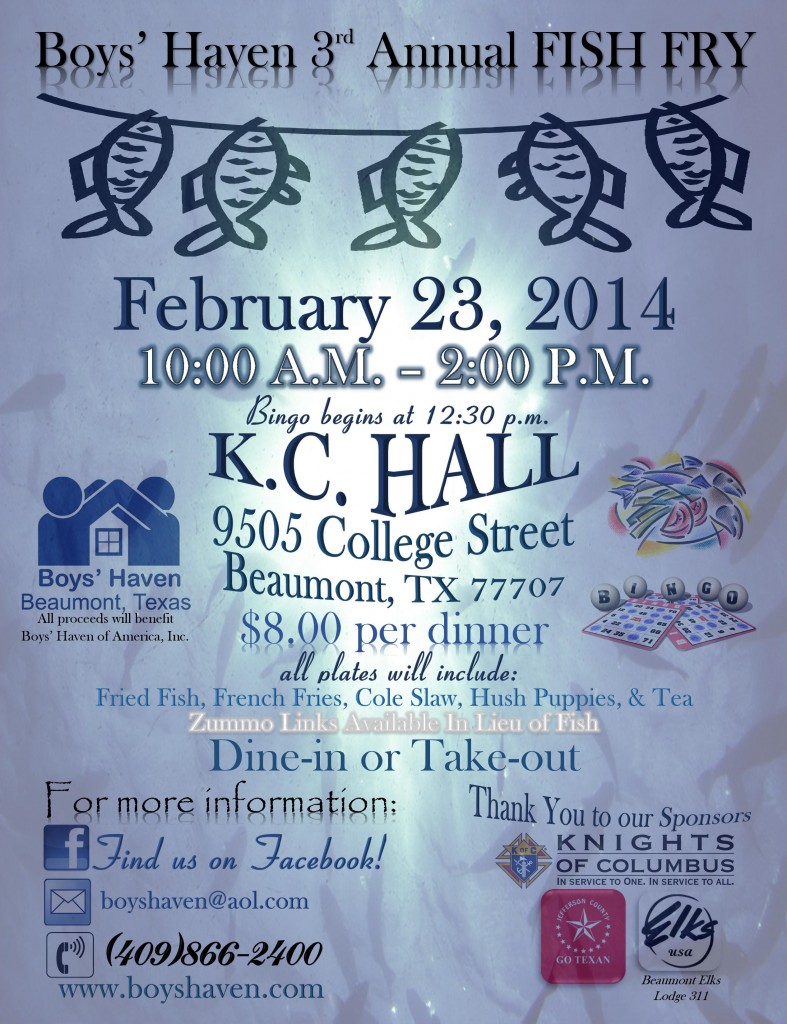 EatDrinkSETX.com looks forward to seeing you there!
Beaumont Boys Haven thanks all of their 2014 sponsors including:
The Knights of Columbus
Beaumont Elks Lodge 311
Jefferson County Go Texan Committee

Promote your 2014 Southeast Texas non-profit fundraiser on EatDrinkSETX.com.
We promote food, drink, galas, festivals, and entertainment to Southeast Texas 365 days a year.
Our articles about your fundraiser will reach all of Southeast Texas:
Tyler County
Jefferson County
Hardin County
Orange County
You host a great event – let EatDrinkSETX.com bring you a great turnout.
Call for more information or to schedule a meeting today:
EatDrinkSETX.com Marketing
(512) 567-8068
EatDrinkSETX@gmail.com
Thank-you for all you do to serve Southeast Texas.
Best wishes to Boys Haven for a wonderful 2014 Fish Fry fundraiser.