Beaumont Wedding Catering Testimonial: Bando's
Looking for some Southeast Texas wedding planning help? Today we're sharing a client testimonial for Beaumont wedding caterer Bando's.
It can be hard to choose the just right Beaumont wedding caterer.
Sometimes it helps to hear testimonials from other Southeast Texas brides and grooms.
Recently, an EatDrinkSETX.com reader posted some thoughts on Beaumont wedding caterer Bando's: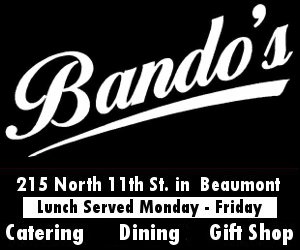 Bandos catered my Beaumont wedding reception in 2012.
Bandos also catered my niece's wedding in 2012.
Bandos then catered my daughter's wedding in 2014.
Bando's offers true professional Beaumont wedding catering. What seems to be difficult for most people is very simple to them.
They do an extraordinary job of bringing Beaumont wedding receptions to life,  and the food is elegant as well as delicious.
Mother Maria is one of the sweetest people,  and is close to a Saint as anyone I know.
I thank Maria and Debbie for their dedication to creating beautiful Beaumont Tx wedding receptions and accommodating their Beaumont brides under great pressure!
– Rodney Robichau
Venue: Bando's
Address: 215 N. 11th Street, Beaumont, Tx
Phone: (409) 212-8445
Days/ Hours: Monday – Friday 9a-5:30p
About Bando's: Bando's has been serving up great food and memories in Southeast Texas for over 30 years.
We hope today's Southeast Texas Wedding Planning article has been helpful.
Thank-you to Rodney Robichau for sharing this testimonial for Beaumont wedding caterer Bando's.