Cinco de Mayo
For Cinco de Mayo- (This Saturday)  check out the band Kumbion Zelekta at Tequila Rok, Monterery House Drink Specials & an authentic Cinco de Mayo family style Festival behind Fletcher Elementary in Beaumont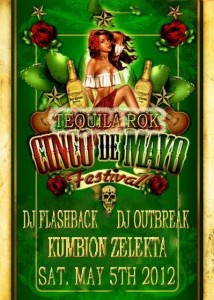 Tequila Rok –  Saturday Night, the Cinco de Mayo party is at Tequila Rok
with Latin-Fusion/Cumbia group Kumbion Zelekta , from 7PM-10PM (inside),
-followed by DJ Outbreak and DJ Flashback in the mix 10PM-2AM (inside)
and featuring Vagabond Swing ,  11PM-until.. (outside).
Drink Specials: 
$2 Tecate and/or Margaritas (5PM-11PM)
$5 Patron Shots (5PM-11PM)
-and- $2 Lone Star (all night)
They'll be opening early, at 5PM, and the word is they'll have  FREE Texican food .

Monterey House – For Cinco de Mayo, they will be serving ALL of their Mexican Beers for $2, and their our House MARGARITAS will be 1/2 price all day on Saturday, May 5th! (two locations in Beaumont)
Cinco de Mayo / behind Fletcher Elementary School, in Beaumont
Una Fiesta para la gente/A Fiesta for the people….For an authentic family style Cinco De Mayo Celebration,  make it from noon-6 p.m. May 5 at Fletcher Elementary School, 1055 Avenue F, in Beaumont. This Cinco de Mayo event features a beauty pageant, folkloric dancers, a Mariachi band from Houston, food booths, pinata party and children's games. Bring your lawn chairs. Sponsored by Lulac Council No. 4410, the Junior Hispanic Forum and La Voz Spanish language newspaper (409) 833-6592 or (409) 838-8792.