Don't Miss Wayne Toups Live – Saturday Night at Honky Tonk Texas Silsbee
Saturday Wayne Toups will take center stage at Silsbee's #1 live music venue-  Honky Tonk Texas.
Wayne Toups has been headlining in Southeast Texas for a long time – and for a very good reason. Wayne Toups puts Southeast Texans on the dance floor and makes honky tonk cash registers ring.
How many grammy winning artists have you seen perform live in Southeast Texas? Wayne Toups lives up to his legend.

No matter where you are on the "Red Neck to Cajun" spectrum (and lots of us in Southeast Texas are pretty well in the middle), Wayne Toups will put you on the dance floor.
This Saturday he's bringing his energy to Honky Tonk Texas in Silsbee. This is the perfect venue to see Wayne Toups live in Southeast Texas.
Honky Tonk Texas is big – with plenty of dance floor.
Honky Tonk Texas has great food (made from scratch – a definite cut above your average SETX bar food), ice cold drinks, and plenty of parking. You can really make a night of it at Honky Tonk Texas and get into the show.
These days, not every live performer knows who he is- many are clearly emulating others.
Wayne Toups does not suffer fromthis malady – he has his own identity and he'll be living it to the max Saturday at Silsbee's live music headquarters – Honky Tonk Texas.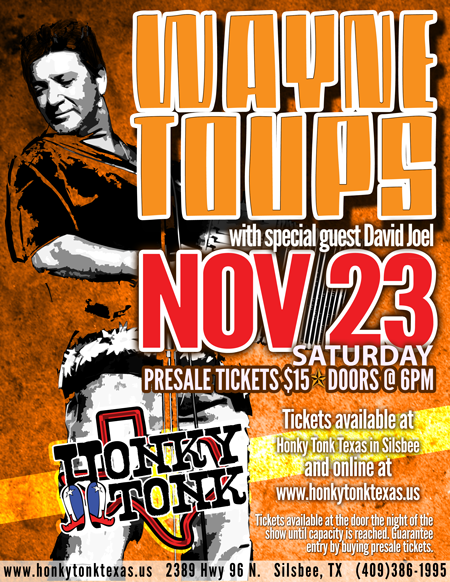 Enjoy the Wayne Toups show – and keep Honky Tonk Texas in mind for:
Silsbee's best wedding location. Great food, Lots of room, and "Silsbee priced" for your budget
Silsbee's best holiday location: Halloween, New Year's
Your Silsbee Office Christmas Party
Hand breaded chicken strips. Fried Pickles. Silsbee's best burgers.
Pool & Dart Tournaments
Silsbee's Karaoke Wedenesday
Silsbee's Washer Tournament Thursday
Silsbee's Friday Ladies Night
Silsbee Family Reunions – Honky Tonk Texas Caters!
Silsbee High School Reunions – perfect location. Food, drinks, Karaoke, band/DJ, Pool, Darts, Washers, Shuffleboard