Enjoy Great Port Arthur Tex Mex at La Suprema
La Suprema has long been a favorite Nederland Tex Mex hotspot.
From work lunches to family celebrations, even Southeast Texas wedding catering, La Suprema is the place to enjoy great Port Arthur Tex Mex.
For many Southeast Texas families, the Martinez family and La Suprema are now feeding a third generation.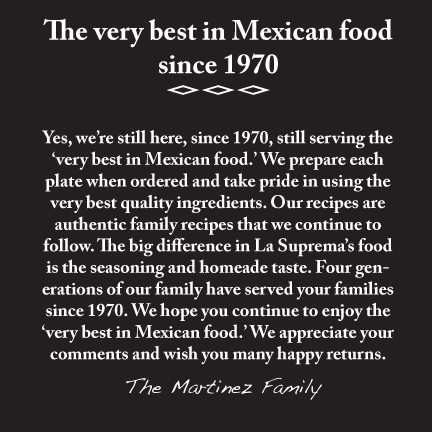 Each week, La Suprema is the background for Port Arthur work lunches, Nederland first dates, and Mid County Friday Night family night get togethers.
La Suprema is the kind of Southeast Texas Mexican restaurant where you could see anyone from plant workers to SETX elected officials to Mid County ladies who lunch.
When you have the SETX-Mex flavor right, the people will come – and for three generations, La Suprema and the Martinez family have brought Mid County fresh delicious Mexican flavor.
If you haven't found good Tex Mex in Mid County, it's time you found La Suprema.
You'll be back again and again- with friends, with family, and to celebrate good times.
La Suprema Mexican Restaurant
Address: 3106 Highway 365 in Nederland
Monday – Thursday: 11a-9p
Friday-Saturday: 11a-10p
Sunday: 11a-3p
Phone:  (409) 722-2880
4580 College St in Beaumont, inside M&D Supply
Beaumont Location serves a varying menu with different specials daily.
Are you looking for great Port Arthur Tex Mex?
See you at La Suprema!