Euforialive! returns to Beaumont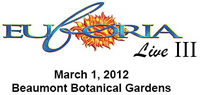 Join the Spindletop Center for Euforialive III, Thursday, March 1 at the Beaumont Botanical Gardens.
Euforialive pairs two premier Dallas artists: painter Rolando Diaz and pianist Seth Simmons. Simmons will play his  original musical works while Diaz paints a work of art before your very eyes. Afterwards, an  auction will be held on the artists masterpiece to bidders at the event.
In addition, there is a dinner and a silent auction.
See a video here of a performance of painter Rolando Diaz and pianist Seth Simmons at an Euphoria event Victory Park in Dallas.

This dinner and auction will help Spindletop Center build affordable apartments for people with mental illness and intellectual disabilities.
Euphorialive III
Thursday, March 1

held at The Beaumont Botanical Gardens
6088 Babe Zaharias Drive  Beaumont, TX 77705
5:30p- 9p
Call Now for Reservations. 
409-839-1046 for reservations.
$75 per ticket.
For more information on Spindletop Center , visit www.stmhmr.org