Goodies Catering & Sweet Shoppe – A Historical Find
by  Amy Allison
EatDrinkSETX.com Review Columnist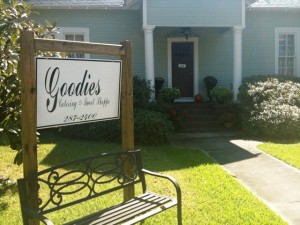 Goodies Catering & Sweet Shoppe was an unexpected find. Located in The Teacherage, a historic building in Sour Lake where school teachers once lived, is now a charming bed & breakfast with a daily lunch menu and a sweet shop inside.
Goodies has a relaxing atmosphere and is tastefully decorated. It also accommodates three guest bedrooms and an elegant conference room to give a nice change of scenery for those community gatherings. Every room is decorated in French country style that is so inviting you will honestly not want to leave once settled in. There is also an outside eating area surrounded by historic shade trees.  Goodies entire facility is available to rent for special events such as showers, weddings or receptions and accompanied with a full catering menu at reasonable prices making it hard to beat.
Goodies offers lunch in two styles, hot and ready daily lunch specials (cafeteria style) or made to order sandwiches. The hot and ready lunch specials change daily; you select one meat and two vegetables with bread for $6.95. These lunches are home-style selections such as salisbury steak, chicken & spinach enchiladas or shrimp creole. I visited on a Wednesday and chose the mini meatloaf with creamy corn and spinach rice. The meatloaf had a delicious bbq flavor and was the perfect portion size for lunch.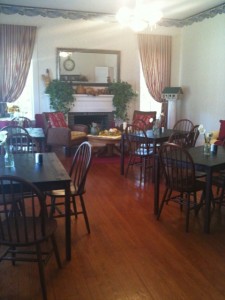 The other dining options are made to order sandwiches ($5.95-6.95). I recommend the Turkey Parmesan Sandwich, it's freshly made and grilled with turkey, provolone cheese, tomatoes, avocado and mayo. The most interesting part is that the bread is grilled and encrusted with parmesan cheese on the outside, like a reverse grilled cheese sandwich, but the cheese is golden and crispy like toasted bread.
After your meal you'll need to make a selection from the sweet shoppe. Items change daily at the whim of the staff, but usually include cookies, cakes, pies and other delectable confections.
Goodies is a great indulgence in your hectic week. While their hours may be abbreviated if you are able to stop in and enjoy a meal with the girls at Goodies you won't be disappointed. It's worth an afternoon drive to Sour Lake and there is definitely something "good" waiting for you at Goodies.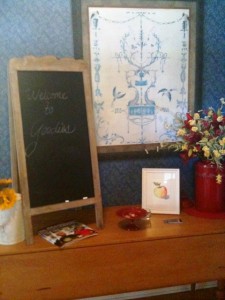 Goodies Catering & Sweet Shoppe
525 Cora Lee
Sour Lake, Tx
(409) 287-2400
Hours:
Tuesday-Friday: 10-5:30
Saturday: 9-12
** Summer Hours: Open Tues – Fri. from 10am to 2pm,  serving lunch 11-2.
Have something to tell Amy? Use the comment button below or drop her an email at amy.eatdrinksetx@gmail.com