How to "Spike Your Juice"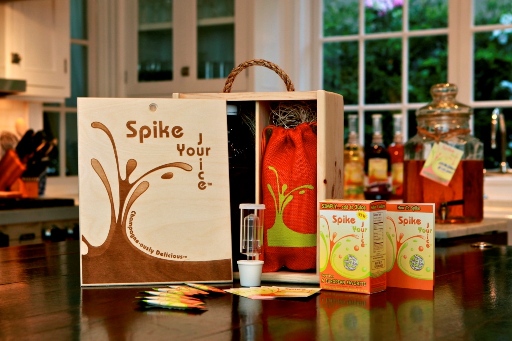 Spike Your Juice, the do it yourself cocktail that produces a customized bubbly alcoholic beverage, has officially announced its bid to take the "do it yourself" market to a new high.
Didn't graduate from rocket science school?  It's no problem!  Spike Your Juice is a simple three-step fermentation process that anyone can complete, which produces a natural, refreshing and tasty sparkling cocktail.
Spike Your Juice comes in a travel-sized box with six packets of the fermenting mixture and a reusable rubber stopper/airlock.  Any juice with the exception for Orange will work with this mixture.  Pour the packet into 64 ounces of juice and seal with the special airlock and rubbor stopper included in the kit.  Voila!  In 48 hours your juice will become an alcoholic delight.  The longer it ferments the more potent it becomes with alcoholic content reaching up to 14%.  Once the acquired taste is reached, close the bottle with the rubber stopper and refrigerate.  It's as simple as that!  Once spiked, the beverage can last up to several weeks; comparable to soda – it will begin to loose its fizz over time.
NOTE:  Once fermenting is completed, the enclosed rubber stopper must be applied, otherwise the bottle will burst.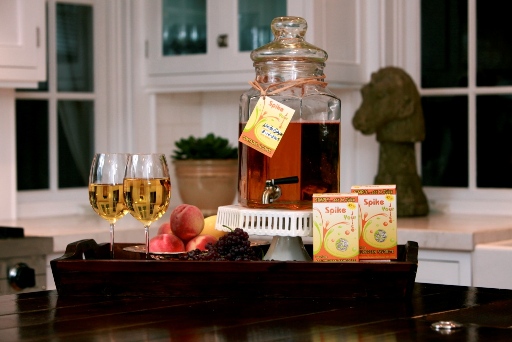 The Spike Your Juice Story
When Spike Your Juice founders Hansi Rudolph and Stefan Rauber met six years ago at their childrens Los Angeles scool, they were two dads bonding over arithmetic homework and soccer practice.  But four years ago, Rudolph a Stanford educated Emmy Award winning news editor, and Rauber, a successful architect and son of one of Europe's leading restaurateurs started reminiscing about items they were homesick for in the US.  At the top of their list was Federweisser, a fizzy grape cocktail only available during the harvest months of September and October in limited wine-making regions of Europe.  They soon obtained the recipe for the original yeast mixture, intent on creating a formula that captured the drinks essence – fruity and bubbly.
The result was Spike Your Juice, a DIY kit for consumers using juice and Spike's proprietary recipe.
*Keep it legal! Must be 21 to buy & imbibe!