Looking for a Great Beaumont Kabob? Sababa Mediterranean Grill
Sababa Mediterranean Grill Beaumont is bringing the flavors of the Mediterranean and Middle East to Southeast Texas.
Grilled meat is universal. While in Texas that has long meant burgers and barbecues, across much of the world, it means kabobs- skewers of flavored meats and vegetables.
Kabobs are also the kind of dish you can really develop a passion for. Many Southeast Texans who have gone abroad in the oil business come back to Southeast Texas with a real hunger for the kabobs they discovered in Turkey or Tunisia. Kabobs and gyros are also common late night food at colleges across the country.
Now Southeast Texas diners can get a great kabob at Sababa Mediterranean Grill Beaumont.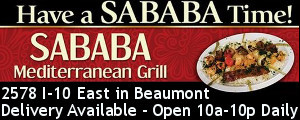 There are currently six options, so Sababa is a great option if you're looking to eat with a bunch of friends to share plates and discover new flavors:
Beef Kabob Plate
Chicken Kabob Plate
Kofta Kabob Plate
Lamb Kabob Plate
Sababa Mixed Grill:One each Chicken, Beef, Lamb
Kabobs are full of flavor and adventure.
Next time you crave a great Beaumont kabob, visit Sababa Mediterranean Grill.