Looking for Great Home Made Ice Cream in Hardin County? County Line Diner
There was a time when each small Southeast Texas town had a corner drug shop with an ice cream shop.
There aren't many left (Woodville, Lufkin).
Kountze has something that may be even more appropriate – a wonderful restaurant with a home made ice cream bar and an adjoining salon and day spa.
The restaurant is County Line Diner "Where Hunger Meets Happiness".

The salon is Van Gogh Beauty Center which draws Southeast Texans from miles around for contemporary and cutting edge hair styles, massage, eyelash extensions, hair extensions, and body art.
The ice cream is home made from scratch and available in over a dozen tastebud tempting flavors.
On one recent visit the flavors included:
Mango
Peach
Strawberry
Rocky Road
Vanilla
Cookies and Cream
Pralines and Cream
Sweet Cream
Coffee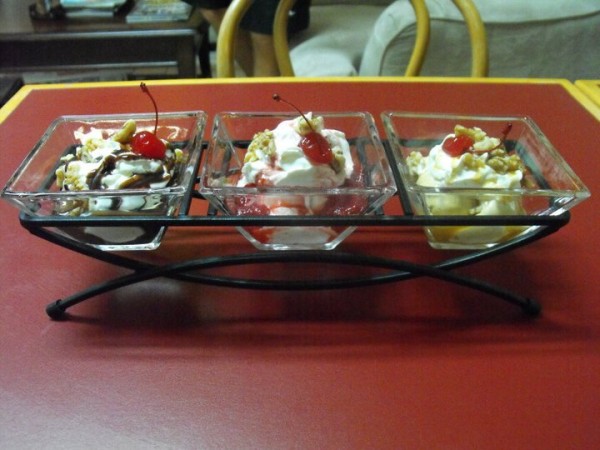 If you live in the Big Thicket area or are visiting the Big Thicket, Kountze Trade Days, or Kirby- Hill House, no visit to Kountze is complete without a visit to County Line Diner.
In addition to the best home made ice cream in Hardin County, County Line is also a wonderful restaurant and coffee shop.
EatDrinkSETX.com readers rave about County Line Diner's:
Elvis Presley Sandwich: Peanut Butter, banana and honey. Served with chips and a pickle spear.
Chicken Alfredo with Garlic Toast
Grilled Pork Chops. Served with two sides. Choose from: mixed steamed vegetables, baked beans, Garlic Toast, seasoned rice, macaroni & cheese.
Vietnamese Eggrolls
Southwest Chicken. Grilled chicken breast topped with grilled onions, tomatoes, pepper jack  and barbecue sauce. Served with two sides.
These are some of our readers favorites, but only a small sampling of the delicious variety available at County Line Diner – from Greek Salad to Chicken Gnocchi to Fruit Smoothies.
Click here for County Line Diner Kountze's full online menu.