Mid-County Live Music Spotlight: Alex Rozell Live 10/19 at Beau Reve in Port Arthur
Alex Rozell is a Mid-County firefighter who is attracting a lot of attention for his music.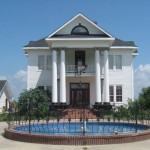 If you've heard the buzz but haven't been able to see Rozell perform, catch him Saturday 10/19 at Beau Reve in Port Arthur.
Beau Reve is a favorite venue of Mid County live music fans- waterfront, spacious patio, beautiful plantation style mansion, even a large boutique where diners can brows between sets.
Soulful and unique, blurring the lines between Americana, pop rock andblues, Alex's silky smooth vocals complement heartfelt lyrics. His musiccarries influences of James Taylor, The Eagles and Jackson Browne, as wellas contemporaries such as John Mayer, Ray Lamontagne, and Zac Brown.
Alex's live shows incorporate a perfect blend of originals with popular classic to current material allowing him to adapt and relate to a variety of audiences and venues.
Alex will be in top form Saturday 10/19 at Beau Reve Port Arthur- don't miss a wonderful opportunity to catch this rising Port Arthur music star.