Need a Place to Party for the Holidays?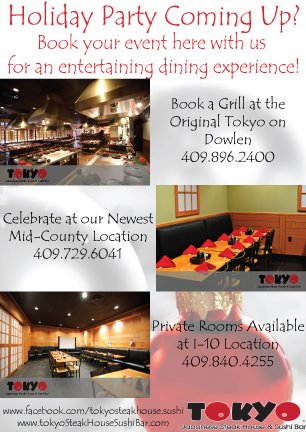 Already planning for the holiday season?
Book your Christmas party or family gathering @ Tokyo and let them help you celebrate your holiday season.
Preset menus, Sushi 101 and much more is available for your holiday dining needs, but you will get this  only at Tokyo!!
Call Tokyo for details and information and book your party today!
Tokyo on Dowlen Road
4438 Dowlen Rd Suite 104
Beaumont, Tx 77706
Phone (409) 896-2400
Tokyo – on  IH-10
1970 IH-10 South
Beaumont, Tx 77707
Phone (409) 840-4255
Tokyo Mid County
‎3300 Central Mall Dr
Port Arthur, TX 77642
Phone (409) 729-0641