Peace, Love & Chili!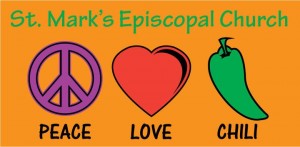 St. Mark's Episcopal Church will host their 71st annual Chili Supper & Bazaar Thursday, November 1
So make it Chili for lunch or dinner (at 680 Calder Street at Pearl in downtown Beaumont) . You can have your Chili served  with rice, and sides of Fritos, coleslaw, crackers, jalapenos, cheese and onions.
Bazaar – 10a- 8p
Lunch serving times(11 a.m. – 2 p.m.)
Dinner serving times  (5-8 p.m.)
Takeout is available until 7 p.m.!
Proceeds are donated to local charities.
St. Mark's bazaar is also happening with  vendors from all over showcasing  their holiday goods and crafts. The bazaar is open from 10:00 a.m. – 8:00 p.m. A silent auction along with  a big board auction gives you a chance to win trips & parties!
Tickets for Chili are $10 for an adult & $5 for a child.
Frozen Chili is available til sold out: $6 /pint; $12/ quart.
The Bazaar will be held from 10a to 8p.