Port Arthur's Choice for Fresh Sushi – Tokyo Mid County
Sushi is like no other food. It creates almost an obsession in its fans. If you're obsessed with sushi, you'll become obsessed with Tokyo Mid County, Tokyo Dowlen Road, and Tokyo I-10 Beaumont.
It can be hard to believe that Southeast Texas has three sushi restaurants that are this beautiful and that serve sushi that is so fresh, inventive, and delicious.
Don't pinch yourself though, just hop in the car and get to the closest Tokyo for some truly wonderful sushi.

If you are there at lunch, the Tokyo Sushi lunch is a great introduction to what Tokyo is all about. They provide a soup, salad, and a small sampling of their sushi offerings.
The miso soup is everything you'd expect – light and earthy, just enough to wake up your senses and activate your appetite.
The house salad is different. It's not subtle at all. The cold crisp lettuce is covered in a tangy home made dressing that leaves you wanting more.
Don't worry though- the star of the show, Tokyo's sushi, is on its way.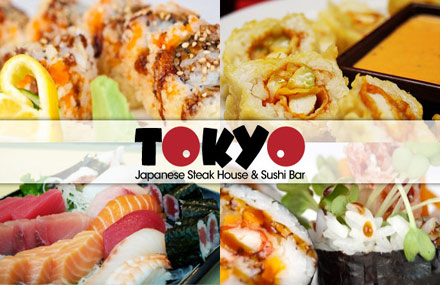 Tuna
Salmon
Yellowtail Sushi
Snapper
Tamago
(4) pieces of Tokyo California Roll
The Tokyo sushi lunch is a great introduction. You'll be full and satisfied- but you'll be back.
Enjoy the Tokyo closest to you- they are all beautiful and serve delicious Japanese cuisine for Southeast Texas:
Tokyo Port Arthur/Mid County
Tokyo Dowlen Road
Tokyo I-10 Beaumont
Tokyo Southeast Texas also offers an awesome hibachi lunch- as fun as it is delicous.