Port Arthur's Fun Lunch – Tokyo Hibachi Grill
Southeast Texans work hard. That means we often grab lunch on the go – something fast we hardly take the time to taste or enjoy.
Today, enjoy lunch. Have fun at lunch. Taste your lunch- and love it. Tokyo has three locations across Southeast Texas that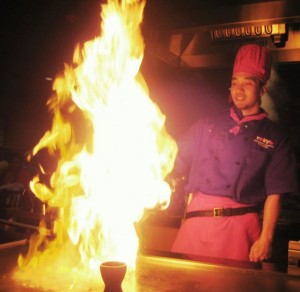 provide an outstanding Hibachi Grill lunch. Tokyo Port Arthur, Tokyo I-10 Beaumont, and Tokyo Dowlen Road.
At its best, hibachi offers a meal with an entertaining show, and at Tokyo's three Southeast Texas locations, diners get to experience hibachi at it's best. If you want hibachi better than Tokyo Grill, you'll have to go to Tokyo Japan.
From the moment the chef walks up to the grill, you're in for a good time.
Tokyo hibachi chefs are not only master chefs, they are master entertainers.
Each element from sauteing  vegetables to flipping shrimp is enjoyable for diners- and the sights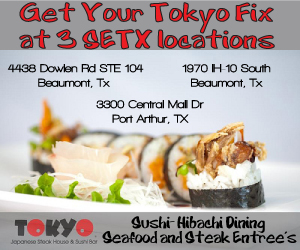 and smells combine to build your hunger to a fever pitch.
The fun of the show doesn't take away from the quality of the food either- Tokyo might really offer Beaumont's best steak, Beaumont's best shrimp, and Beaumont's best chicken.
Each item is tender and delicious.
You work too hard and life is too short. Give yourself a break today- call some friends or family and meet at Tokyo Port Arthur, Tokyo I-10 Beaumont, or Tokyo Dowlen Road.