Beaumont Lunch – Right Sized. Quiche at Bando's Beaumont
Looking the perfect Beaumont lunch portion – filling without being overwhelming? Bando's has you covered.
There used to be a saying, "Real men don't eat quiche."
Who came up with that?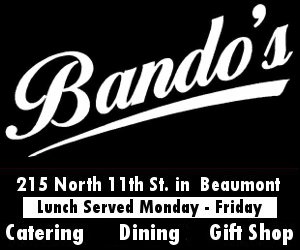 Men like eggs
Men like cheese
Men like meat
Men like pie
Quiche is basically a cheesy egg pie with meat, so clearly quiche is obviously an ideal food for men.
It's also a right sized lunch for any Beaumont diner looking to eat healthy.
It has your protein and your vegetables and lots of natural vitamins and minerals. It also tastes GREAT.
In Beaumont, men can discover quiche at Bando's.
Bando's has a well deserved reputation for providing some of the finest freshly prepared food in Southeast Texas.
Bando's quiche certainly lives up to that reputation- light, fluffy, fresh, and filling.
In Southeast Texas, "Real men do eat quiche"- at Bando's.
Bando's quiche is a perfect lunch portion for anyone looking for a healthy, delicious Beaumont lunch.