Save the Date for the Beaumont Boy's Haven Fish Fry 2/23/14
The 2014 Beaumont Boys Haven Fish Fry will be held on February 23rd.
Mark your calendars so you don't miss this great event benefitting Beaumont Boys Haven.
Enjoy:
Some of the best crispy fried fish in Southeast Texas
French fries
Cole slaw
Hush Puppies
Ice Tea
Plates are available for dine in or carry out.
Not a fish lover? Zummo links are available as a substitute.
Here are all the details: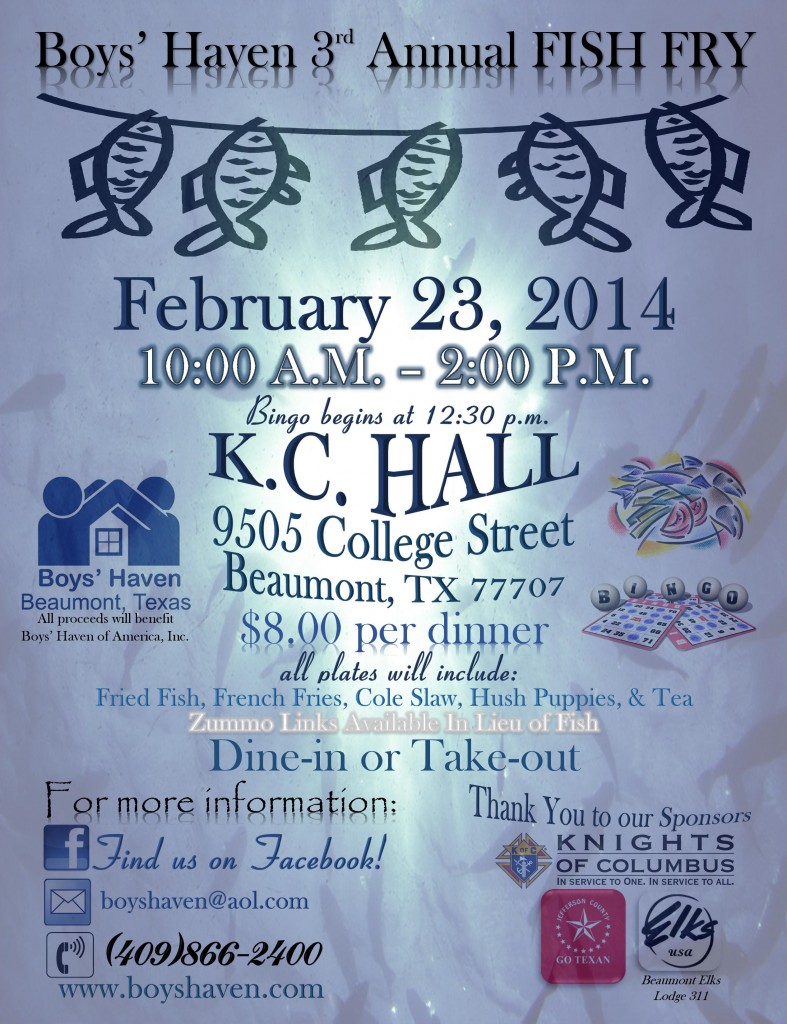 A big EatDrinkSETX.com thank-you to the sponsors of this year's Boys Haven Fish Fry:
Beaumont Knights of Columbus
Beaumont Elks Lodge 311
Jefferson County Go Texan
EatDrinkSETX.com
Boys Haven appreciates everything you do to make this annual fundraiser a big success. You are helping boys in need.

Is your Southeast Texas non-profit preparing for your fundraiser event? Promote it to Southeast Texas on EatDrinkSETX.com.
EatDrinkSETX.com advertises restaurants, festivals, galas, and entertainment across the following counties:
Jefferson
Hardin
Orange
Tyler
When Southeast Texas looks for fun, food, and drink, they look to EatDrinkSETX.com.
Make sure to promote your upcoming fundraiser right here.
Call today for information:
(512) 567-8068
EatDrinkSETX@gmail.com
Best wishes to Beaumont Boys Haven for an outstanding 2014 Fish Fry.