Southeast Texans Keep Their New Year's Resolutions by Eating Healthy at Tokyo's Three Southeast Texas Locations
Keeping New Year's resolutions can be hard, especially for those of us who have committed to losing weight.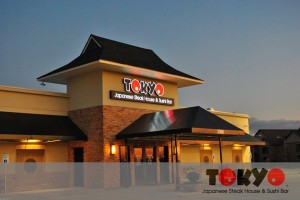 Of course the biggest problem has always been that we hate to give up our favorite Southeast Texas foods like chicken fried steak, barbecued pork ribs, banana pudding and sushi from Tokyo Japanese Steakhouse and Sushi bar's three awesome Southeast Texas locations.
Wait…
Sushi is healthy. Southeast Texas sushi lovers don't have to give up eating Tokyo sushi to get trim – eating at Tokyo Japanese Steakhouse and Sushi Bar can actually help Southeast Texans lose weight.
Most sushi is gluten free (just ask your Tokyo server for gluten free soy sauce- it is available by request)
Sushi is fish- the good cholesterol
Most Tokyo rolls can be made with NO mayo which helps a lot.
There are some pretty amazing healthy sushi options at Tokyo Beaumont and Mid-County: