The 2012 Cow Calendar is Out!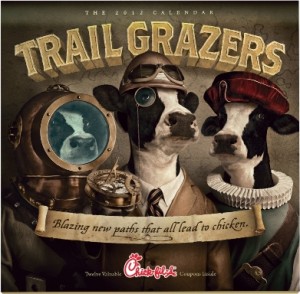 This holiday season, the Chick-fil-A® "Eat Mor Chikin®" Cows are honoring the historic contributions of the cows that came before them to influence world history in the chain's new 2012 Cow Calendar. The holiday cheer from Chick-fil-A doesn't end with the release of the annual Cow Calendar. The kid friendly restaurant chain is also bringing the Peppermint Chocolate Chip Milkshake back to menus as a limited-time flavor.
The 15th edition of the cow-themed calendars, entitled "Trail Grazers: Blazing New Paths That All Lead to Chicken," pays tribute to some of world history's bravest human explorers. Twelve courageous bovines that ventured into new frontiers by air, land and sea are featured in the calendar, proving that cows can do more than make a good meal. Among the famous trail grazers featured are "Amealia Airhoof," the "first heifer in flight who took to the skies to spread the message of chicken" and "Corralin' Shepard," the bovine who ventured into space to "make one giant leap for cow kind aboard Apoultry 14."
Beginning November 1, the calendars can be purchased at any participating mall or stand-alone Chick-fil-A restaurant for $6 (plus tax) through early January (or until supplies last). Calendars may also be purchased online through the chain's website, www.chick-fil-a.com.
Back by popular demand, Chick-fil-A's Peppermint Chocolate Chip Milkshake also returned toChick-fil-A menu boards this week for the third straight year. As with the chain's year-round milkshake flavors, the Peppermint Chocolate Chip Milkshake is hand-spun with Chick-fil-A's popular "home-style" Icedream® and topped with light whipped cream and a maraschino cherry. The seasonal flavor will be available through early January and is offered in 14 oz. or 20 oz. cups priced regionally from $2.55 – $3.19 and $2.95 – $3.69, respectively.