The Evolution of the Southeast Texas Baked Potato. The Big Spud at Novrozsky's.
Baked potatoes are great. Loaded baked potatoes are tasty. If you're going to have a baked potato as a meal though, it has to be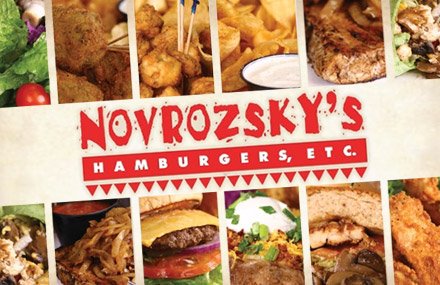 big.
Enter the Novrozsky's Big Spud.
If you like baked potatoes, you'll love the Novrozsky's Big Spud.
Even better, there's a different flavor for every day of the week:
The Novrozsky's Plano Spud. Just enough fresh ingredients to pull out the full flavor of the potato: cheddar, bacon, sour cream, and chives.
Novrozsky's Shrimp Spud. We've never seen this one anywhere else, but we can't say why. Talk about twogreat tastes that taste together – shrimp and potato go great together. Choose grilled or Fried shrimp with swiss cheese and chives.
Novrozsky's Mushroom Chicken Spud. Sauteed mushrooms, grilled chicken, cheddar cheese. The two root vegetables  really compliment the big spud.
Novrozsky's Chicken Fried Steak Spud. You've had a baked potato next to your chicken fried steak. Pretty good right? Take it up a notch by combining them. A giant baked potato topped with chicken fried steak, gravy, and cheddar cheese.
Novrozsky's BBQ Beef Spud. This is an EatDrinkSETX.com favorite. Simple, but the quality ingredients make it absolutely delicious. Novrozsky's barbecued beef, cheddar, and purple onions. We like to add a big spoonful of sour cream.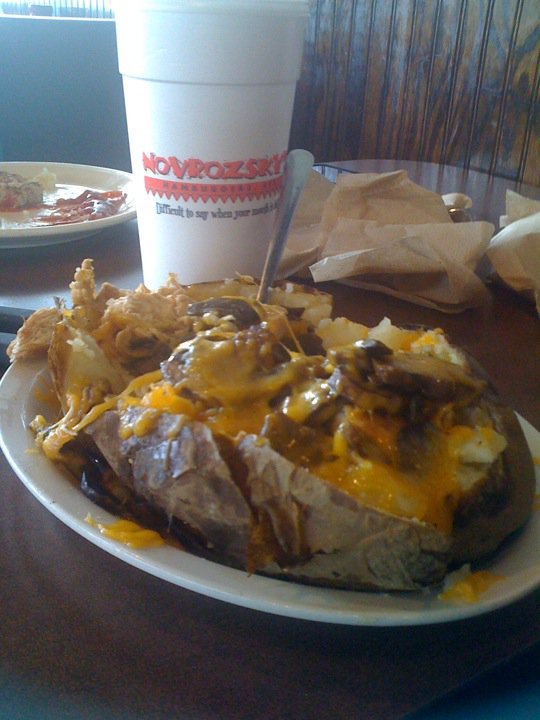 When you're looking for a Novrozsky's big spud, you won't have to look far.
Southeast Texas is Novrozsky's country.
You won't have to drive far for one of Southeast Texas best stuffed baked potatoes.
In Southeast Texas, loaded baked potato lovers are never far from Novrozsky's.