Tokyo Steakhouse & Sushi Bar Announces Special 2013 Christmas Eve & Christmas Day Hours
The most special holidays call for the most special meals, and for Southeast Texas sushi and hibachi lovers that means Tokyo Steakhouse and Sushi Bar.
For 2013 Tokyo's three Southeast Texas restaurants have announced special hours for Christmas Eve and Christmas Day: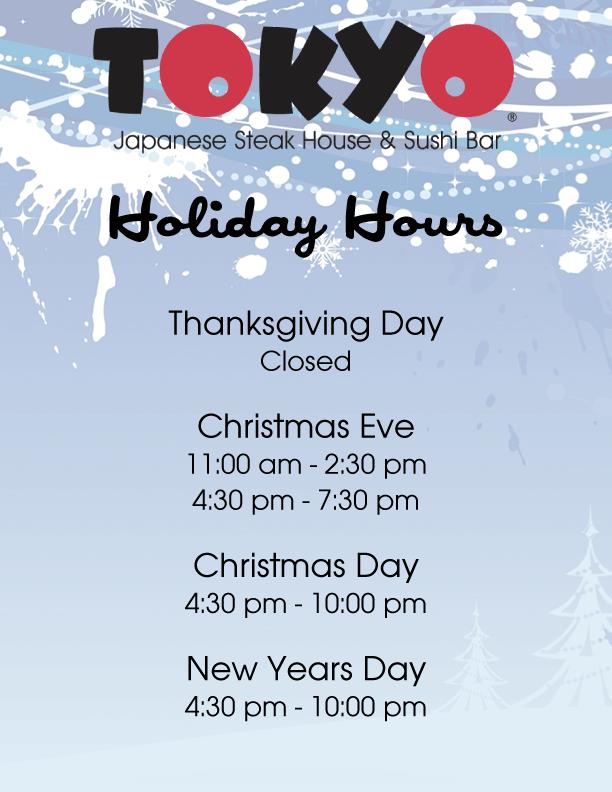 Swing by Tokyo Steakhouse and Sushi Bar before Christmas to stock up on Tokyo Gift Certificates.
When you make a $50 gift certificate purchase this holiday season, Tokyo Steakhouse will provide an extra $10 Tokyo gift certificate for you.
Tokyo Gift Certificates are perfect for:
Southeast Texas Office Secret Santa gifts
Stocking Stuffers
A gift for your spouse- what is better than a romantic evening of fine dining? Tokyo sushi & Tokyo hibachi say, "I LOVE YOU!"
A gift for a client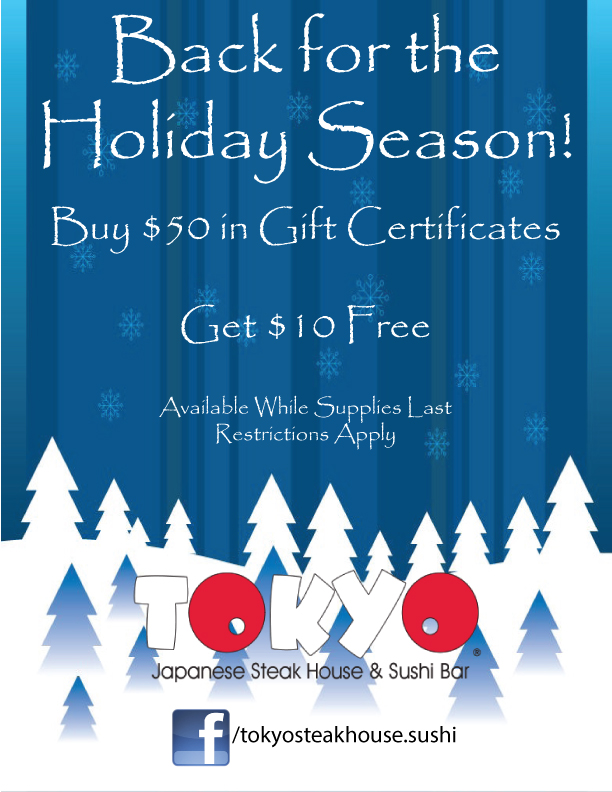 While you are at Tokyo, do not miss their amazing holiday menu.
At Tokyo, you get food that looks just as wonderful as it tastes.
During the holidays, Southeast Texas diners like to find meals that are truly special – and Tokyo meets that expectation and exceeds it, meal after meal.
Check out this amazing Tokyo Japanese Steakhouse and Sushi Bar holiday menu for 2013: