Ubi Caritas Mardi Gras Extravaganza!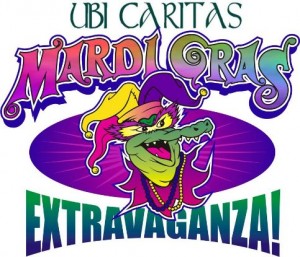 It's time again for Beaumont's Annual Mardi Gras Dinner and Dance.
What Day: Saturday, February 9, 2013
Where at: Holiday Inn on Walden Rd Beaumont
What Time: Fun Begins at 7:00 pm
What You'll Eat:  to Eat Gumbo and Etouffee Dinner Served 7 until 8:30 pm
What Else: Dancing 8 pm til midnight ( Casual Attire ) Featuring the band THREE CAR GARAGE
Ubi Caritas, which means place of mercy, provides a medical home to over 15,000 low income and un-insured patients. Mardi Gras helps to raise precious operating support for the health ministry of Ubi Caritas. One way in which this fundraiser is accomplished is by the willingness of volunteers to run for royalty. Each year two people from each of these founding churches campaign to raise money to see who will be crowned as King and Queen of Mardi Gras. 
Presenting the 2013 Royalty

Mary Jane Benning & John McElroy (St. Stephen's Church) 

Sally Bundy & Dean Calcote (St. Mark's ) 
Your participation can make a big difference in the lives of people in our community who have no access to health care. The Ubi Caritas Mardi Gras event helps raise funds to support the Family Medical Clinic here in Beaumont.
There are lots of ways to participate and at the same time have a great evening of fun.
You can be a Table Sponsor at one of three exciting levels 

You can purchase individual tickets and bring your friends 

Make a Tax Deductable donation for a great cause 
Individual tickets and tables may be purchased at St. Mark's Church and St. Stephen's Church, by contacting Jame Grant at 409-832-1924 xt. 102, or email at ubicaritasmardigras@hotmail.com
* only $50 per person/$500 per table!
Also Visit www.UbiCaritas.org and on Join Ubi Cararitas Mardi Gras on Facebook